'A mountain had gone into labour and was groaning terribly. Such rumors excited great expectations all over the country. In the end, however, the mountain gave birth to a mouse.'  — Phaedrus
Well… Energy Secretary Jose Rene Almendras didn't exactly say it that way but that is the essence of what he said in a TV interview on ANC's beyond politics. Here is what he said:
"I think the reason why traffic got really bad was car sales were really something else," he said in an interview with Lynda Jumilla on ANC's Beyond Politics.

(See full article here http://www.abs-cbnnews.com/nation/09/09/15/too-many-cars-palace-eyes-restrictions-private-vehicles-edsa#.VfAgJXDLc90.facebook)
Uhmmm… What?!
Thing is though, such bafflingly stupid statements by Aquino's officials are quite expected. In fact, if someone searched for all of those statements and put it together in a book, it would probably rival the sales of former President Joseph Estrada's joke book Eraptions.
Sorry, Secretary Almendras, you are wrong.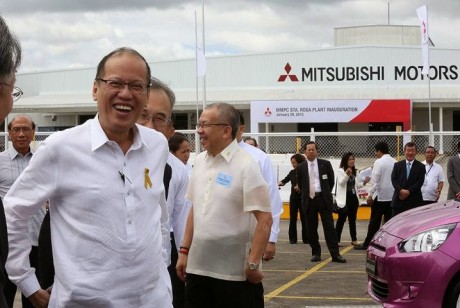 The reason why vehicle sales have gone up is most probably because the capital region doesn't have the kind of public mass transport system which would make it unnecessary for them to have cars.
It may come as a shock to you, but we do not have a TRUE public mass transport system.
For something to be a system, things have to be organized in such a way that each part works together to do one thing. In the case of a public mass transport system, that one thing is to transport large numbers of people from one place to another.
What we do have are hundreds of thousands of different kinds of public utility vehicles competing with one another for passengers and space on the same road network. That's perhaps another reason why it seems appropriate that traffic gridlock in the country's capital region is called "traffick-geddon" or "carma-geddon".
Thing is, in order for the capital region to have a public mass transport system, changes have to be made that will affect tens of thousands of public vehicle franchise holders and that's something a politician will avoid even broaching.
This is because, to me at least, a public mass transportation system should have at least five characteristics:
different modes of public transport should function together and do not compete with one another. This can imply that major thoroughfares like EDSA or Common Wealth Avenue will only have buses, jeeps will be limited to secondary streets, and tricycles will have to be done away with completely. Large subdivisions should have a shuttle system for their residents.
public transportation routes should connect rather than overlap. This can imply that public vehicle routes will all have the same length. As it is, there are jeeps and buses that ply routes from Baclaran to Cubao but at the same time there are jeeps and buses that ply shorter routes between Baclaran and Cubao.
terminals, stops, and covered walkways should be an integral part of the public transport system to discourage people from embarking/disembarking anywhere they please. The thing that causes traffic to slow down is when one vehicle suddenly stops or slows down at the head of a queue. If public vehicles can be made to strictly use terminals and stops to load/unload passengers, sudden stops or slowing down would be reduced making traffic flow more predictable.
all modes of public transportation work on a schedule in synchrony with business and government office hours.
should be a service provided by a few business entities rather than thousands of public transport operators.
Thing is, I didn't even think this one up. These ideas have been proposed for decades now and here we have president Noynoy Aquino saying that the solution to traffic gridlock still needs to be studied less than a year before his term expires.
You know what? If I had a dirty mind, I'd say that Pnoy purposely made sure that we wouldn't have a public mass transport system so that his cronies would make a killing from car sales. But hey! That's just a wild idea, right?