These days, the woeful plight of refugees trying to get into Europe is international news.  They are running away from ISIS who have been pillaging their world and the dark forces that have been erasing their civilization.  They are seeking a world where hope could be alive and aspire to leave a world where hope has been darkened by conflicts and miseries.  They are victims of reprehensible human traffickers who sell even the slightest glimmer of hope to the desperate for a hefty profit.  And, Europe is in a most awkward quandary.
For decades, the woeful plight of the growing number of illegal settlers in the cities of the Philippines is being daily confirmed by the eyes, ears and noses of citizens and is no longer news.  They are running away, but could not, from ISIS too, the InSenstive Interest Syndrome of politicians who pillage the country and the powers-that-be who erase from the culture any sense of decency.  They are seeking hope in an urban life from the ever-growing neglect of policy makers of the rural life.  They are victims of election trafficking, a regularly-held exercise when reprehensible politicians sell hope to the gullible who don't know they are buying unfounded promises at the price of their future.  And, Philippines is in a quandary, but now denies that quandary.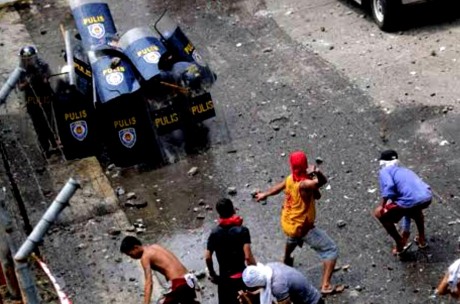 There are squatters all over the  world.  Rio de Janeiro, and other cities in Brazil, are known for their favelas.  In Seoul, there is a large section, a stone's throw away from the Hyatt Hotel, which one will know is the poorest section of the city, as it is a contrast to the modern landscape when viewed from the other side of the river.  Just at the outskirts of Bangkok is also a section they call the wet market, because the vendors are literally on boats. 
But, Dan Brown didn't write about these cities and liken them to the Gates of Hell, as he did with Metro Manila.  On the contrary, the three, the poor sections of Rio de Janeiro, Seoul, and Bangkok, are tourist attractions. 
Some observers even say that Metro Manila has now some of the scariest areas for extreme adventurers and the weirdos that could easily rival those that could be found in Mumbai, Kolkata and Chennai, where India has done recently a lot to reverse decades of neglect. 
'It's More Fun in the Phillippines' won a prestigious ad award in New York for its creativity.  We suppose the ad has a double meaning, i.e., if being inconvenienced, distressed, or just having a horrible experience could also be considered as fun.  The Tourism Department better clarify the real meaning of "more fun" for there is a terrible slyness to it.  This could account for why many tourists don't come back.  Better: "It's More Fun in the Philippines — But Be Careful".
There is no denying that the poor sections in our cities can't be tourist attractions.  What they attract are criminal elements.  They are an eyesore, stinky and filthy.  In a culture where individuals are a self-centred, narcissistic, inconsiderate, discourteous, and thievin' lot (ref: The Philippines' traffic problems will never be solved. Here's why…), the quandary is in asking ourselves if these squatter colonies are the cause, or the effect, of a damaged culture.  Apparently, the dubious, if not evil, loves that which is filthy.
By now, the population is experiencing the Stockholm Syndrome effect; their senses, a 24/7 captive audience of these squatter colonies.  If syndromes are an exaggeration, depression can still be a good description.  Everyone, rich and poor, young and old, has acquired a squatter mentality.  Filipino netizens, with the flimsiest of reasons, flood comment threads with Pinoy Pride comments, in order to deny, or cover-up, this mentality but, in the process, further confirm unwittingly that squatter mentality.
Squatters exist because of the disregard of laws. (ref: Why the Iglesia Ni Cristo rally on EDSA was another case of Filipinos' SQUATTER mentality prevailing) The squatter mentality developed because any semblance of a sense of stability has long gone.  Any sense of belonging has vanished.  The law is only for those who belong, not for those who think they don't belong.  Because most feel they don't belong, laws are there for individual conveniences, not to serve as the rule.  Most feel they are above the law.
Consequently, the law has worked against the weak and the poor; it has favoured the influential, the criminally wily, the land grabber and the rich.  With the absence of a level playing field, personal preservation, self-protection, and advancement have become more of who-you-know, rather than on what-you-know.  Education has become basic, and incentives for advanced learning have become limited to the very few optimists.  The padrino system and patronage politics became the pillars and foundations of institutions; they are the very system.
The rich are squatters in the Philippines because their homes are really somewhere in New York, London, Paris, or Singapore, where they spend six months of every year to keep their sanity. The Philippines has been relegated to being a mere business address.  More than half of the middle class want to migrate to the US, Canada, or Australia.  And, the poor don't know whether they want to stay in the city, or their home province, but will jump at any opportunity to be an OFW.
After the people power uprisings of EDSA I and EDSA II, things have become worse, and people now doubt if change for the better is even possible.  And, thus, people are tired and have become dismissive to calls to change.  Politicians have poisoned the very well from which fresh ideas could be fetched, and there is distrust and apathy all around.
Obviously, Philippine society is a fragmented one. There is nothing to hold it together.  Those who advocate a return to nationalism have a distorted sense of nationalism.  They want to erase the colonial past, instead of using history as points of departure.  Thus, history has repeated itself, and we are back to being a colony; only this time, the colonizers are Filipino feudal lords, who want to perpetuate the squatter mentality, so they can ravage the land.  It is history repeating itself in the worst possible way.
When the Spaniards found the archipelago, it was a loose confederations of tribes.  It was only when it became a Spanish colony that it began to have a semblance of a nation.  Ultra-nationalists say that we probably would have been a strong nation if we didn't become a colony.  We have to doubt this.  As an archipelago, it probably would have ended as an archipelago of three nations, or more.  In fact, the basis for that could even be found up to now in our extreme parochialism.  Worse, we can't even harbor a sense of empathy that goes beyond our families and circles of friends.
The very way urban planning of our cities is approached reflects this mentality.  Cities in the Philippines are just collections of pockets of kingdoms.  There are the enclaves of the rich and the subdivisions of the middle class — all protected by high walls. Then there are the tolerated colonies of illegal settlers.  For as long as we each don't disturb each other worlds, then everything seems okay, even when it is not.
Imperial Manila has become less and less effective. Federalism has been pushed because this seems to fit our mentality and our geography like a glove.  It likely would permit better management and control.  Unfortunately, powers-that-be have kept on kicking the can on this one always further down the road.  They don't want to lose their over-all control, and yet it is this control that accounts for so many areas that are neglected.
Still, we have to listen to their questions.  How does federalism contribute to the unity of Filipinos?  Or, does it aggravate a fragmented society?  Could we have unity in diversity, or diversity in unity?  For sure, we have diversity, so the question has to be about unity.  Could unity be defined in a way that would work with the Filipino mentality, and with Filipino culture, if there was any?  Where could the principles be found?  How could its practicality be formulated?
Typically, unifying a people is about allowing unifying forces to be present.  As in war, they immediately come into play because there is supposed to be a common enemy; there is an urgent common goal.  Maybe, public administration is about recognizing, or "creating", a common enemy, or a common goal.  This is not something unknown to our leaders, and that is why they come out with slogans, what is supposed to be a common goal for a specific period; nothing about the future.  But, because they are corrupt, they could not tell the public who is the common enemy, and thus, the slogans are empty.  And, with a culture that loves to debate ad infinitum the question of who is the common enemy, leaders always get away with their empty slogans.
Let us stop the quandary, and the slogans.  It is time to look for a champion who has the character and intellect to undertake the long, arduous task of defining with us again who and what is a Filipino, so the nation can be clear again on who are really its enemies.
GRP Featured Comment hall-of-famer. Former executive of the Far East Regional Office of a US-based multinational company living out of a suitcase covering the market from Tokyo to Mumbai to Melbourne, and all the countries within that triangle. Got tired after logging 300k air miles per year. Now, I just have a little trading biz on specialty chemicals.