"Things always get worse before they get better, master Bruce."
~Alfred Pennyworth, The Dark Knight
Well, as I've said in my previous article, it's only just September and, already, people are hanging Christmas decorations and Christmas songs have begun flooding the airwaves. Now don't get me wrong, I like Christmas as much as the next guy. I'm no Grinch, okay?
However, with the way Christmas seems to be fast on the approach, people today are overlooking a very specific time or season in the year: Halloween and the Day of the Dead. In this materialistic and vapid age, commemoration of death and the dead has been almost all but forgotten, glossed over or outright ignored by the many.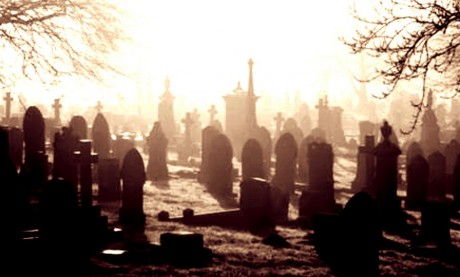 Of course, it was not always like so. Before the technological revolution of the 90's in the Philippines, the commemoration of the departed in the Philippines had been a strong tradition as it is in other countries. Families would gather at cemeteries to visit their lost loved ones and spend quality time together under the sun and in the company of friends and neighbors. Then, in the evenings, TV Patrol would showcase some scary stories which were often cheesy but somehow memorable in their own right.
However, due to the ever deteriorating mindset of the populace and their obsession with a facade of happiness, typical Pinoys jump almost immediately to the Yuletide Season without sparing any kind of acknowledgement for the dead as they once did. As I've mentioned before, people often deem life and death to be opposing forces despite the fact that not only are they not opposites; they are connected on a deep and almost singular level. After all, everything that lives will eventually die and that everything that has died was once alive.
A good number of people today become uncomfortable around the very mention of death and often refuse to acknowledge it. When themes of death are discussed in local TV, the most common reaction you'll get are: "It's so negative!" Few ever come to the realize that life and death are actually linked and that only by acknowledging our mortality can we come to understand our individual importance in the world.
On another note, from a more esoteric perspective, the Season of the Dead more or less represents, for me at least, the darkest or lowest part of the year, especially if compared to the more festive mood of the Yuletide Season which quickly follows it. As a young boy with an overactive imagination, I once thought that the Season of the Dead is when dark spirits and powers are at the strongest but the arrival of Christmas defeats them and ushers in a New Year full of potential for good until the cycle repeats itself again. As the quote above implies, more often than not, the dawn of a new and better tomorrow is often preceded by darkness and that we must be prepared to brave the dark and face its challenges before we can finally begin a new day.
As J.K. Rowling, author of the Harry Potter books once said, when we can accept death as an inevitable and natural part of life, then we can finally make peace with our inner selves and find our place in the world and, when the Reaper comes knocking, he will come as an old friend who will take us home. But when we run from death and seek constantly to avoid him, then he will seem like a dreaded hunter who will never allow us to find peace.
I HAVE RETURNED TO LAY WASTE TO OUR ENEMIES!