I would like to ask for a moment of silence to pay respect for the 50 dead in the recent explosion that occurred in Tianjin, China and, if you're the praying type, let's offer a prayer for the quick recovery of the 701 who were injured in the blast…
There. I'm sure that all of you are looking at me now as if I'm some kind of traitor because I'm choosing to show sympathy for a people who have essentially taken our western islands from us. There will be those of you who will say that China deserves the fate that has befallen Tianjin. Like President Aquino and his utter refusal to apologize for the bus hostage crisis and even calling the Chinese "Nazis" in his speech, I know there are a lot of you who are pleased by these turn of events.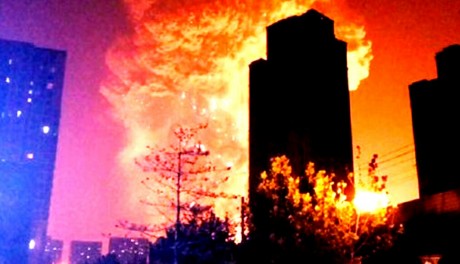 In fact I've already met a few who are in an almost celebratory mood just because China has suffered this latest disaster. I have even met people who are not just happy about what happened but are even hoping that there were more casualties. Then I hear the usual prattle about the Chinese bringing their troubles upon themselves and that they deserve everything that happened to them because (again) they are not a Christian nation like the Philippines.
Well, heck, what's so Christian about wishing ill upon others? Hasn't anyone else noticed that most of the casualties in the disaster were civilians? Also, while the People's Republic of China might be largely secular compared to the Philippines, I'm sure that it has its share of Christians as well and that a few of them might actually be victims of the Tianjin explosion. So much for our alleged "Christianity" again, eh?
Look, I still think that the China has to answer for a lot that it has done not just to the Philippines but also other Southeast Asian countries. I believe that the Chinese government and its military are bullies and need to be put to justice. However, I strongly disagree that the Tianjin explosion is something that its people deserve.
Remember that the common Chinese citizen is probably no different from a common Filipino citizen and might even be worse off considering the kind of poverty and overpopulation the country faces. Would you be happy for instance if your home burned down with your family in it? Would you be happy if your loved ones burned to death and some ignorant fool out there will just be laughing and saying that they deserved what happened to them?
Why must we be so morally myopic? We cry bloody murder when Mary Jane Veloso is about to be executed even when she was proven to be carrying drugs and thus committing a crime while we laugh at innocent people who burned to death. We cry "discrimination!" when a foreigner makes fun of us and our backward culture yet we ourselves like to bash people's physical appearances (even our own) for fun and resort to personal attacks when we can't win an argument.
I believe that China needs to face justice for the crimes of its government but it should do so in a court of law with a fair trial. If we are forced to (God forbid) go to war with China, then let us face off with their military personnel who are trained combatants. Wishing ill on its civilian population just shows off how immature we are.
No innocent deserves to burn to death ladies and gentlemen, even if we are enemies with their government.
[Original photo courtesy CNBC.com.]
I HAVE RETURNED TO LAY WASTE TO OUR ENEMIES!