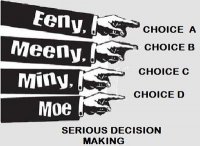 Do Filipinos want to be represented by the best of their own, rather than the least bad?
No, they don't.
Elections in the Philippines are rarely about the "most acceptable", if at all. They are, more often than not, about the "least unacceptable".
What is the difference, you may ask? Well, common sense tells us that the "most acceptable" of a lot is the one that is closest to a pre-established ideal. When we do evaluations, we usually give marks based on deviations from the standards used. Deviations can be things that are lacking, absent, or mistaken.
The "least unacceptable", on the other hand, assumes that all the samples for evaluation are bad or rotten. You have to choose which one is the least bad for you. People are in the situation wherein they choose the level of badness that they feel they can tolerate or live with.
So here's the thing that bothers me: why do Filipinos bother choosing from the lot if they're all going to be bad?
Because, apparently, that is all that Filipino society is capable of doing.
What I mean is that Filipinos seem to limit themselves to choices that have already been pre-packaged and formed for them. But if Filipinos are really serious about being a democracy, they should be able to generate more choices, right? I mean, there has got to be a better alternative somewhere out there out of a hundred million strong population, correct?
It doesn't work that way here. Not in this basketcase.
The "least unacceptable" mindset is simply an extension of one the pillars of Filipino cultural dysfunction: the mediocrity mindset, pwede-na-iyan. No wonder it comes much more naturally to them.
Individually, it's not uncommon at all to meet good-hearted Filipinos and those who just want to do the best they can. Collectively, however, it's a different story.
In a society whose members possess a baseless sense of inflated self-importance, badness has become the standard. Members of such a society who attempt to uphold ideals and standard of good behavior and decency face an uphill battle. Those who do not share their ideals accuse them of being self-righteous. They are ridiculed and ostracized for standing out, and making other members of the society look bad. People shoot down any attempts to be held to a higher standard here, because it is much more comfortable, and easier, to wallow in mediocrity – a mediocrity which is collectively shared by Filipino society.
A society that is merely content with the "least unacceptable" produces and encourages leaders and politicians who are merely content with being "the least unacceptable". Aiming for higher standard pushes Filipinos out of their comfort zones – an absolute no-no for Filipinos who are satisfied with their mediocrity. Filipinos who want to go beyond the culture of mediocrity and who want to speak out against the misdeeds of their countrymen are often forced into silent submission.
Being acceptable, in the context of Philippine elections, however, takes a whole new meaning. It is not platform or competence based. It throws such evaluation out the window, and focuses on emotional reception and perception. How do you make your audience feel?
Showing competence is perceived as a threat; the masses will perceive you as arrogant and an excessive braggart. Having a platform is irrelevant because Filipinos can't be bothered to read or think and ask critical questions. They are unnecessarily deferential to their public servants; to hold them accountable is a difficult and gargantuan task.
Manipulating the audience's emotions to one's favor is done here by singing and dancing on stage, giving freebies, sharing details of one's personal life, using one's dead relatives to generate sympathy, and so on. It's actually very easy; Filipinos are very emotional and as such, are suckers for these kinds of hooks.
So who is going to win the Philippine elections? The candidate who can command best the Filipinos' emotions.
If they don't wise up, the Filipinos are doomed to perpetually make the emotionally satisfying, least unacceptable, but not necessarily beneficial choices.
А вы, друзья, как ни садитесь, все в музыканты не годитесь. – But you, my friends, however you sit, not all as musicians fit.