I have just finished reading Senator Bongbong Marcos's A second opinion on the state of our nation published on the Manila Times, and I have chills in my body, and my eyes are misty. I never thought I would be able to see such a thing again in this land of ours, but there it was. Believe me, I had to approach it with cynicism, but I am glad he had corrected that feeling, and it feels good inside.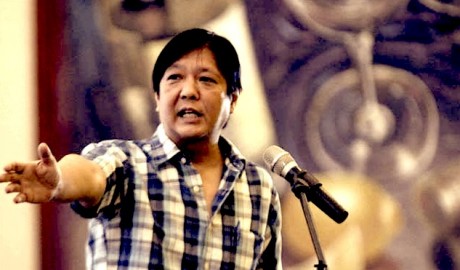 What a breath of fresh air. It is like when the door of a plane open after a long flight and a whip of air enters, and you know you are in another land where they are more strict with air pollution. It is like that clean air after a storm because the winds have just blown away the filth. It is that morning air in a white sand beach when the sun is just about to come up and the frolickers have not yet come to disturb your thoughts.
The guy is a philosopher, and I understand why. He was in the circle of power, was born into that, but that power was taken away abruptly. Initially, after that is a feeling of denial and then the blaming of others, which results in a depressing feeling. That feeling brings remorse. If the remorse is handled well, WHYs start coming into the mind, from subjective WHYs to objective WHYs.
Eventually, a philosopher slowly arises because philosophy is about WHYs. Because he is stripped of everything and is no longer afraid to have nothing, he could start tackling the WHYs of life in a clear and objective fashion. If it is the correct WHYs, he will begin to understand and absorb within his very bones that life is not about him. Life is no longer about having because there is also good in having nothing in that it takes away fear. Thus he is no longer a person about power, but about service.
That process brings mental suffering that eats at the very concept of being and is afforded to only a lucky few. That suffering makes physical suffering look easy. Ask Steve Job about it. He went from a drop out to a founder of a company, but then he was fired out. Out of the ashes of himself, he started picking himself up, but it took years, but coming out of that suffering, he became one of the greatest innovators of the world. He too was a philosopher.
They are different from those who didn't know power, but already suffered. Coming out of suffering, they think the world owes them a debt. When they are thrust into power, they become the narcissists of the first order, narcissism without comparison. Because narcissism is only about himself and only see himself, then he is totally blind and deaf. Power becomes insanity of the first order, and it harms and destroys.
You will see in the speech a philosopher talking. When he spells out something, he tells you the WHYs and can be clear about them because they are in his very bones. Naturally, WHYs breed principles, and he starts with those. Towards the middle he spells out policies. Because these policies are guided by principles, they don't lose their context from the totality. That is where you get the feeling of unity in the whole speech.
It is not parts randomly scattered all over the place, but parts knowing their respective places and functions. You know that even if he is just tackling 20% of the over-all, you know that these are the priorities because he shows a very good appreciation of the categorization of what is important and what is urgent. One could only confidently expect it will have the impact of 80% because the Pareto principle says so. Unlike narcissists who think they are superhumans, and thus will go for 80%. But unguided by principles, the effort will be on random priorities, disjointed, unconnected to an overall — the result will impact only 20%, and maybe even zilch.
Philosophers set goals that are very detached from themselves, and you see that in the speech. Because they are not afraid in having nothing, the goals are very impersonal. Persons can fail and disappoint, and that is where the goals of philosophers can be beautiful and sublime, possibly timeless because they are no longer owned by any person, and yet can be owned by all.
That is where you see the speaker oozing with leadership qualities, though he seems disinterested in being a leader. Because they can just be just like a coach motivating his players, it doesn't matter to him whether he is in the limelight or not. Maybe that is what we need in order to stop people from thinking that government is suppose to give them aid and alms. If we have a leader who thinks like a coach and motivator, then we might have more players who do their best to play, and not just be bench warmers. Philosophers can get that instinct in choosing the best of the best. It will be interesting to see the playbook he will come out with, but I think it will great, and the best will come to play.
Maybe, it is time we have a philosopher as a leader. I think that knight in shining armor that we have been waiting for has just shown up in the horizon.
If the next administration is to succeed, meritocracy must be the guiding principle. The next leader should surround himself or herself with the best of the best in the Cabinet. Our country is blessed with such great human talent and we must engage that great human talent in the service of nation-building. Meritocracy must govern all appointments, not only in high-level appointments, but throughout the entire bureaucracy.
The above is an excerpt from Senator Marcos's speech. Read the full speech transcript on The Manila Times here.
GRP Featured Comment hall-of-famer. Former executive of the Far East Regional Office of a US-based multinational company living out of a suitcase covering the market from Tokyo to Mumbai to Melbourne, and all the countries within that triangle. Got tired after logging 300k air miles per year. Now, I just have a little trading biz on specialty chemicals.