Note: Ladies and gentlemen, I remembered saying that I was supposed to put up something a little more frivolous instead of this particular article. Anyway, here was what I intended to put up so that you could have something to laugh at for a change as I was worried that some of my past few articles had become too serious. Also, before I go on, remember that this is a parody article. This isn't real in any way so you won't have too worry about losing your appetites for the next few weeks. However, if it ever turns out to be real, then I suppose all bets are off.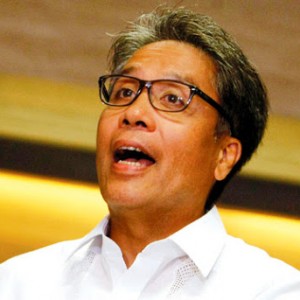 Well, while President Aquino has given his blessing and support to Mar Roxas to be his successor, it seems that there are just too many Filipinos who have lost faith in the president and his so-called "Daang Matuwid". So even with President Aquino's support, it's still highly likely that Mar Roxas won't be able to convince the majority to vote for him even if he has done everything from delivering goods to the market, directing traffic to putting together desks for schools. But not to worry, it seems that Mr. Roxas still has another ace up his sleeve!
To boost his popularity, Mr. Roxas will be starring in a controversial film called Magic Mar which will showcase the lives of macho dancers or male strippers. While there has been very little word on how the film will play out, a few leaks have revealed that Magic Mar will be backed by a considerable budget which is likely to be from the money intended to help Yolanda survivors. Also of note is that President Aquino himself will be playing a support roll and even Mar Roxas' rival to the presidency, Jejomar Binay, will also make an appearance in the film.
As for the film proper, Mar Roxas will play the role of "Mario", a macho dancer who always wears a red thong and wants to become the greatest male stripper in the world. However, he has a rival in the form of "Jomar", another macho dancer played by Jejomar Binay who will always be wearing a black thong and has the same dream as "Mario". Luckily for "Mario", there is "Ben", a world famous macho dancer who will be portrayed by none other than President Aquino himself in his first starring role and will be wearing a bright yellow thong called "Daang Matuwid". Choreographers from all over the country have also been hired to make sure that Magic Mar becomes not just a national success but a worldwide one.
Additional leaked footage has revealed what the final scene will be: Mar Roxas will sensually strip off his red thong and President Aquino will take off his own and slowly put it on Mar to show how he is passing "Daang Matuwid" to his successor while the two of them move suggestively together to the song  Careless Whisper by George Michael
So there you have it ladies and gentlemen, Magic Mar coming to a theater near you in the up and coming MMFF alongside gems like Taong Alupihan and Wapak Man 2: Watdapak Man!
You may vomit now…
I HAVE RETURNED TO LAY WASTE TO OUR ENEMIES!