Michelle Alfonso and Janet Ricabo, the "Pabebe" Girls, rose to fame a couple of weeks back after a video they uploaded onto the Net, what else, went "viral". The video wasn't much of a production piece. It was just a rant clip with two young teenage girls asserting their right to be who they are. The funny thing is that after they were initially embraced by a bunch of popular celebrities as representing an attitude worth emulating, the bigger base of social media users eventually bore down upon the phenomenon with their scathing indictment of the fad.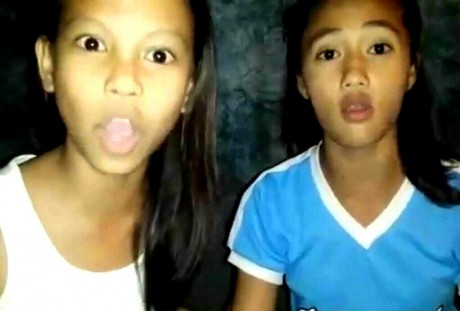 So here we are. It seems it is the thing nowadays to put up the Pabebe Girls as the model of how girls should not behave. There's even a hashtag trending on Twitter, #PabebeGirlKaKung ("You're a Pabebe Girl if…"), where tweeters fill the blank following it with a character trait they find objectionable. For example, according to tweeter @thatpervydude…
#PabebeGirlKaKung you don't know the difference between looking cute and looking annoyingly stupid.
…the above being a bit more straightforward than this interesting one from @EscuetaFaye…
#PabebeGirlKaKung likers mo arabo
(Translated: "You're a Pabebe Girl if your likers are Arabs.")
The more general sentiment seems to be around narcissism. Pabebe Girls are apparently derided as "attention seekers" who will stoop to any spectacle of "stupidity" to worship the gods of social media virality.
The fascinating thing about this is how notions of what not to be are such potent guides for today's youth. If you scroll through the Twitter timeline of the #PabebeGirlKaKung hashtag, you will find tweeters virtually unanimous in citing the attitudes and behaviours that, if you unwittingly exhibit, quickly brands you a pabebe. The timeline is a bible of bad taste, pretty much. That says something about the Pinoy celebs who were quick to run with the phenom.
I wonder then. There seems to be an abundance of anti-role models today but not much in the way of actual real role models — sort of like how Maria Clara who once epitomised the quintessential Filipina finds no heir to that throne today. That's kinda disturbing. The field is left wide open to "idols" like Vice Ganda, Marian Rivera, and Kris Aquino who step in where society has failed to provide sound guidance to an already massively-wayward society. No wonder bad behavior and loser attitudes rule in the Philippines.
benign0 is the Webmaster of GetRealPhilippines.com.