Ladies and gentlemen, I want to lay it before you now that I have never really been a big fan of the Philippine legislative sector and the laws it churns out. I am willing to admit to the fact that I am an anarchist in a sense that I have always looked down on the constitution and  the "values" it supposedly espouses. Nonetheless, I am well aware of laws and their value in any and every society. I am well aware that laws are essentially what holds civilizations together and, without them, there can be no real "nations" in the world.
While the Philippines continues to struggle against corruption, its colonial past, the threat of war and the ever-looming danger of natural disasters, one can note that it has rarely responded well to the challenges it faces. Instead, we come up with solutions that are more about "face value" (think of the hurried BBL) than something that can actually solve the crises we face or don't even bother to come up with solutions at all (such as the issue of dead journalists). While we like to show off that the Philippines is big on laws what with so many congressmen and senators, it's quite clear that many of us, including the many congressmen and senators mentioned, (I'm looking at you Lapid, Revilla and Pacquiao) don't even fully understand the spirit of our laws and what they mean for our people.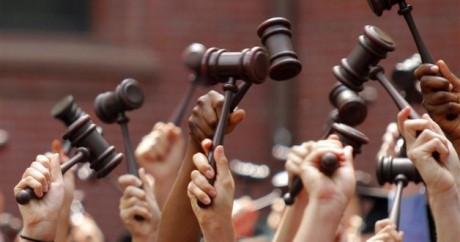 The thing is, majority of us simply see laws the same way that kids will see the rules of games they play. While certainly similar, game rules will always be different from laws as the latter should be worked into one's lifestyle instead of being just seen as something to conform to. It's more than a little egregious once you realize that it is all too often our lawmakers and their ilk that are the lawbreakers in our society.
Again, our disregard for laws ties in with our immaturity as a people. Most of us simply see laws as part of a game, instead of something that's supposed to build our national character. Take for instance that committing crimes isn't seen as bad compared to actually being caught committing a crime. Even people like the alleged Jay Bee seem offended that there are people who call them out on their bad behavior and utter disrespect towards common laws and people just trying to make a living.
Without a healthy respect for laws and the people they protect, we can never really fully realize our potentials as a nation. If we continue to behave like children, refusing to take responsibility for ourselves and the things that we do, we will never progress as a productive and prosperous people.
I am not telling you to conform to authorities in the Philippines as I too am more than a little leery of them. I am also not asking you to like the current constitution and the various laws that go with it as I think they are flawed and deserve a complete and total overhaul. All I am asking is that we all learn to respect them for we can never really call ourselves a "country" if there are no laws that bind us together as a people and shape our minds and hearts as human beings.
I HAVE RETURNED TO LAY WASTE TO OUR ENEMIES!