Ex Davao Mayor Rodrigo Duterte is Da Man! He recently starred in Vice Ganda's Gandang Gabi Vice and made waves across Pinoy society. This is the guy Filipinos want. He's got a platform (federalism among other yummy visions) and he's got conviction. Plus, he's got a Law degree. Sweet!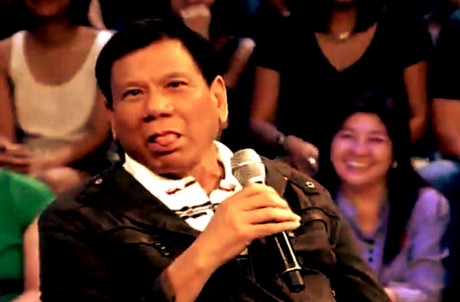 Specifically, these three no-brainers are what make Duterte the top choice from the Visayas:
He deals with crime.
Results. No ifs, no buts, no excuses. Duterte gets things done and gets the crooks done in good — permanently in a lot of cases. What more can ordinary Filipinos ask for? Human rights? Sorry guys and gays, di-nakakain ang human rayytsszz.
When a country is ruled by a deeply-entrenched oligarchy where warlords roam the countryside, I don't think human rights is a luxury we can afford. After all, we are talking about a country where #PatayinAngMgaPABEBE is a top-trending hashtag. And presidents and their henchmen who steal enough money to launch 13 New Horizons missions to Pluto get away scott free.
Kung baga, anything goes in Da Pinas, di ba? Duterte is the only guy who is real enough to know what the Philippines is really all about.
He is a lady's man.
What can I say? Duterte speaks Bisaya. And that is what probably makes him appealing to the ladies. Matigas ang dila niya, if you know what I mean. 😉
The important thing though is that even if he admittedly had three chicks sabay sabay aside from his then wife, they all were aware of their place. Asked if all any of his girls knew they were but one of several others, Duterte said in Tagalog, "I think they're just being stone cold about it."
On that, I'm pretty sure the good ex-Mayor kept them warm enough during their time together.
He can dance.
Well, yeah, in a daddy groovy kinda way. Still, he did try and utlimately it was all about how Filipinos embraced the show — with a resounding thumbs up!
And that's how elections are won — and cime is solved — in the Philippines. Duterte style!
Frustrated artist doing geek for a living.