My first exposure to Dystopian science fiction was, strangely enough, an episode of Teenage Mutant Ninja Turtles. In this particular episode, the heroes in half-shells find themselves in a future ruled with tyranny by the series' main villain Shredder. I don't remember all the details but, as a kid at the time and having no real understanding of what was happening on the show, it scared the heck out of me. To placate me, my grandfather, who was still hale and hearty at that point in time, explained to me that the future Leonardo, Raphael, Donatello and Michael Angelo found themselves in wasn't real but was a possibility. It wasn't the real thing but it could be. Needless to say, the end of the episode felt like waking up from a bad dream and that, I think was how the idea of a "Dystopia" was embedded in my mind just as the idea of "apathy" was implanted into my brain by Care Bears, of all things.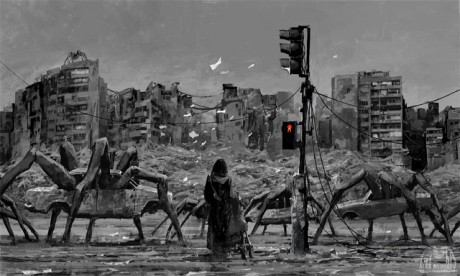 Anyway, on with my point. Well according to a lot of Dystopian sci-fi writers, the best way to create a Dystopia is to convince people that they don't live in one. To get the people to believe that the dysfunction and suffering they're experiencing is not just common but "normal" is the ultimate goal of tyranny. Like a teacher once taught me, when you throw a frog into a pot of boiling water, the frog will just jump out. However, put the frog in a pot of water and slowly raise the temperature until it boils will kill the frog because it won't notice until it's too late.
I have always wondered why Dystopian sci-fi is so rare in Philippine TV just as I have mulled over cosmic horror and why it is isn't exactly popular in the Philippines. I'm not exactly sure but I think it was the commenter Marius who said something along the lines that the Philippines has essentially become a Dystopia straight out of the mind of Alduous Huxley. Indeed, now that I've come to think about it, if North Korea is often compared to Orwell's 1984, the Philippines can be easily compared to that of Huxley's Brave New World because of the common Pinoy's addiction to pleasantry and an unwillingness to even acknowledge the deadly cancer that has essentially infested the nation's system.
I once remember asking a woman if she kept with any interesting sci-fi shows like Walking Dead, Heroes, Lost or Stargate and her only reply was that she hated shows like that because they stressed her by forcing her to think. However, despite her apparent dislike of stress, she seems to enjoy shows like The Legal Wife or My Husband's Lover whose showcasing is actually more stressful to me. Well, there are people who say "to each his own" but it says a lot about how small-minded the common Pinoy is when they prefer to focus on the small dysfunctions of society over the utterly massive issues that is essentially killing the nation if it isn't already dead.
Dystopian sci-fi has always struck me as a cautionary tale of what could be. That, if we aren't careful, our society might just become a nightmarish landscape ruled by despots. Unfortunately, this lesson is lost on many Pinoys because there's no real way for the common Pinoy to know whether or not they live in a Dystopian society.
I HAVE RETURNED TO LAY WASTE TO OUR ENEMIES!