Warner Brothers, owners of the iconic Dukes of Hazzard franchise has reportedly terminated the licensing of "General Lee" toys. This follows a recent shooting incident in the US state of South Carolina in which nine African Americans were gunned down in a church by white gunman Dylann Roof.
The Dukes of Hazzard aired on the CBS television network from January 26, 1979 to February 8, 1985. The series was inspired by the 1975 film Moonrunners, which was also created by Gy Waldron and had many identical or similar character names and concepts. The General Lee was the iconic 1969 Dodge Charger that was at the centre of the hit show. It sported an image of the Confederate flag on its roof.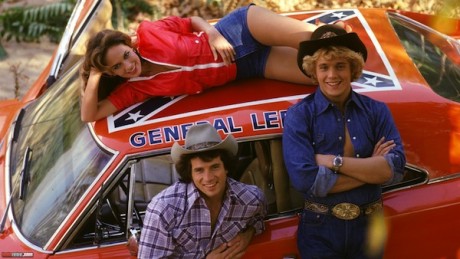 SUPPORT INDEPENDENT SOCIAL COMMENTARY!
Subscribe to our Substack community GRP Insider to receive by email our in-depth free weekly newsletter. Opt into a paid subscription and you'll get premium insider briefs and insights from us daily.
Subscribe to our Substack newsletter, GRP Insider!
Learn more
The Confederate flag, which was flown by a confederacy of secessionist slave states that fought Union troops in the US Civil War, has long been regarded as a symbol of American slavery and general redneckery. On the other hand, southern Americans also see it as a symbol of their culture and heritage.
Because of the recent tragedy in South Carolina, the call to eradicate the flag from American culture and history has grown with big retailers like Walmart now refusing to sell the flag. But is the Confederate flag or, for that matter, any icon or image really that important a symbol of racism or (again for that matter) any social movement, belief, or tradition?
Perhaps, by focusing too much attention on what is really just a quaint symbol, we are highlighting more the reality that the winners (regardless of how right or wrong they happen to be) get to write history.
Like the swastika and, now arguably, the Confederate flag, the crucifix, for example, was also a potent symbol that rallied people to perpetrate hideous atrocities, perhaps at scales that likely dwarf the numbers of lives lost to Nazism and American slavery.
But unlike the swastika and (perhaps in the future) the Confederate flag, the crucifix still hangs at the altars and facades of the Catholic Church's towering edifices. And why not? The Roman Catholic Church is one of the winners of centuries of genocidal religious warfare and ethnic cleansing. Why, for example, are Native Americans not offended by the crucifix when this was a symbol hoisted on poles and displayed in fluttering flags when Spanish conquistador Francisco Pizarro brought to bear the full force of the Inquisition upon the Inca people in the 16th Century in what is now modern-day Peru?
People who are quick to call indignation crusades against symbols need to be careful as they may (as in this recent case) unwittingly highlight inconvenient truths about their own histories, tradition, and heritage. In this day and age when words like "multiculturalism" and "diversity" are bandied around by Apple Watch-wearing hipsters, perhaps one would think people's characters would now be a bit bigger than a flag — or a crucifix.
[NB: Parts of this article were lifted off Wikipedia.org and used in accordance with that site's Creative Commons Attribution-Share Alike License consistent with the same license applied by Get Real Post to its content. Photo of the General Lee courtesy Daily Mail UK.]
benign0 is the Webmaster of GetRealPhilippines.com.