Has anybody noticed that Filipinos are quick to "unite" when one of them is praised or recognized for a good performance overseas, even if the rest of them have nothing to do with the success of said performance? "Proud to be Pinoy, woohoo!"
On the flipside, has anybody noticed that Filipinos are also quick to disown or distance themselves from criticism when addressed to Filipinos in general? "Huwag mo naman lahatin! Di lahat ng Pinoy ganyan!" (Don't lump us all together! Not all of us are like that!)
In short, Filipinos behave like a herd when being praised or validated, but suddenly point the finger to someone else, and allow all hell to break loose, when being criticized or when their faults are there for others to see. Seems like a skewed sense of "unity".
My understanding, however, was that modern societies and real nations confront both good and bad together. When I say together, it's not merely the people just all being in one place. There must be a real sense of community, a real desire to make each other better, an understanding that we can all learn from one another, and an acceptance that being different can be good and beneficial, and one more very important thing: the ability to accept and learn from criticism and points of view other than one's own.
Apparently, none of that sort can be found in the Philippines.
Filipinos, when they come together, form a society where the people blindly follow what is popular or what has been done for a long time, but not necessarily correct or beneficial. They have come together in a society that blocks any attempts and suggestions for it to improve. They form a society where criticism of culture and politics is taboo because it "disturbs the harmony" and "brings everyone's spirits down". They comprise a society where the predominant way of thinking is every man for himself. They make up a society where the people have a baseless sense of being more important than anyone else. They form a society that is apparently confused with what crab mentality means; they take as an offense members not joining their feel-good moments, yet they find nothing wrong with discrediting or tearing down someone who has achieved through merit, or has enough initiative to suggest new ideas in place of obsolete or outdated ones.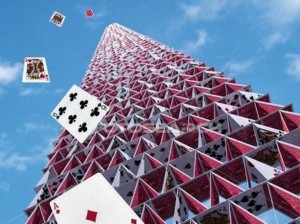 Where's the real unity in that?
Great nations are built upon the foundation of building things and overcoming adversity together. It also involves accepting the faults of your people together, and overcoming them together. The phrase "united we stand, divided we fall" is attributed to former United States president Abraham Lincoln, and it still rings true to this day; unless the people in any location come together to make things work, and unless they work together, they will not prosper. They may not even survive in the long run.
When talking about Filipinos, however, another phrase attributed to Abe Lincoln comes to mind: "A house divided against itself cannot stand." The Philippines typifies this house divided against itself. It will remain that way for a long time because Filipinos think primarily of nothing BUT themselves.
А вы, друзья, как ни садитесь, все в музыканты не годитесь. – But you, my friends, however you sit, not all as musicians fit.