If we are to believe that his will be done in the supposedly mysterious ways that he works, there is a reason why God unleashed an earthquake in Nepal and, before that, Haiyan upon the Philippines. Unlike Adolf Hitler who, himself, had what he believed to be a perfectly rational reason behind his project to exterminate every Jew he could get his hands on, God wins whatever argument you throw at him simply because he has sole claim to being the "creator" of "everything". So, by that logic, everything is pretty much his to destroy on a whim. His "will" be done, see. And because the "way" of his "will" is infinitely mysterious to us mortal scum, it is never our place to question it.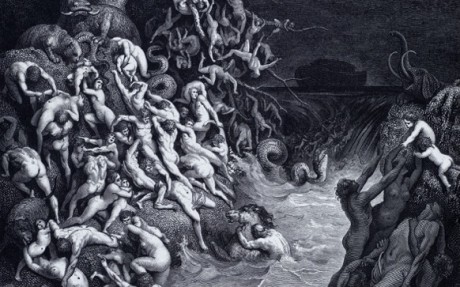 The fact of the unfathomable mystery in God's ways, of course, does not stop us for praying for stuff. We prayed that Manny Pacquiao would win against Floyd Mayweather. That prayer seemingly was not answered. Perhaps Floyd prayed a lot harder. But it's all a mystery. There must be a deeper reason why Pacquiao lost despite the thundering calls to the heavens of a 100-million-strong nation.
There is also the peace initiative currently being mounted on behalf of the Philippines' Muslim minority in its southern islands. We pray for peace and leave it up to God to sort out the details — which is why an entire administration and its crooked henchmen got this far dotting the i's and crossing the t's in an agreement signed by men of dubious citizenship using fake names representing the interests of a terrorist group of questionable sincerity. Filipinos were simply too enthralled by the prospect of God's mysterious will being conscripted to the cause of "peace" in Mindanao to notice the scam unfolding under their noses.
It is funny that Filipino activists would, on one hand, raise big stinks about the opaqueness of their government and call for "greater transparency" with fists raised and champion the much-anticipated Freedom of Information (FOI) bill yet, on the other, submit themselves, their lives, and their destinies to a belief system which is, by clerical edict, absolutely inaccessible to critical inquiry.
Nonetheless, it is fortunate enough that the Philippines is, on paper at least, a secular state that upholds separation of Church and state. At least, Filipinos can be assured that application of the law to the running of society and resolution of conflict amongst its citizens follows the rigour of scientific method, in principle. As it is, otherwise sensible initiatives to uplift social justice, like the newly-minted Reproductive Health Law, struggled mightily to find a footing in Philippines society. Many others, one of which is a decent divorce law, continue to languish thanks to deeply-ingrained religious views. You'd think we'd by now be fiercely protective of the small wins racked up for the cause of secularism.
Of course not.
The initiative to pass the Bangsamoro Basic Law (BBL) and establish an "autonomous" Muslim state over a big chunk of Mindanao promises to plunge millions of Filipinos into the dark abyss of life under a medieval theocracy. Filipino activists and their kin in the Philippines' fledgling freethinking movement may have won a few in the name of modern secularism but the passage of a law that will cede vast portions of the country's breadbasket to hardcore Islamic jihadists will all but bury those achievements.
So why then did God flatten Nepal with an earthquake and level the central islands of the Philippines with history's most powerful typhoon? Why did Manny Pacquiao lose to alleged wife-beater Floyd Mayweather? Why does world hunger persist?
It's all God's will, see. And that will is impenetrably mysterious. So don't bother trying to analyse something that is immune to analysis. As to why Filipinos are standing by while their elected leaders serve up Mindanao to an armed band of Islamic militants who stand for everything that a modern Philippines is not? That too is God's will. Let us pray.
benign0 is the Webmaster of GetRealPhilippines.com.