I was quite of fond of studying philosophy back during my college days and one of the main topics I will probably never forget is the one about the Platonic Cave. It was an idea postulated by the philosopher Plato and it is by far one of the most widely discussed and debated topics among more self-aware and socially astute people. So okay, I'll start by describing the nature of the Platonic Cave.
This is more of a simplified second-hand version but I also want to think about people who aren't all that fond of philosophy and what it entails. So you start by raising a bunch of kids inside a cave, Plato's "Platonic Cave", in essence. You prevent them from leaving the cave so all they will know is the cave and its contents. Because they can't leave, they can only wonder at the light, shape and sounds coming from the entrance of the cave and they eventually create their own stories and theories about them. However, should you try to explain to these people what the world outside the cave is like, they probably won't believe you as they are completely comfortable in their little cave which has become their own little world and is, essentially, their prison, even if they don't see it that way. Were you to drag one of these people out of their cave, they would probably fight you, thinking that you're taking them to their doom.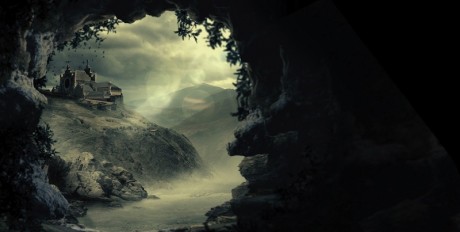 This is, essentially, what I think our media has become. Drawing from this article by Benign0 and this one by Ilda, the Philippine media has changed from being the people's watchdog, to the people's warden. Backed by greedy politicians, a megalomaniac church and generations of oligarchic scoundrels, the media has served only to further distract the common people from the reality around them. The madlang people have essentially become trapped in a cave of sorts that the media has created for them, essentially seeing important issues like the BBL, the plight of OFWs (and the reason for their existence) and the ever-decreasing literacy rate of the Philippines as shadows while their collective attention is focused on useless issues like Kris Aquino's sex life and Mommy D's interest in having children.
When you look at certain foreign media like The Matrix, City of Ember and Tengen Toppa Gurren Lagann, the concept of the Platonic Cave plays a vital role. It posits the idea that what if everything you ever believed in was a lie. In The Matrix, there was how Morpheus questioned Neo's idea of reality, in City of Ember, there were rebellious youths who constantly searched for the exit to the surface and, in Tengen Toppa Gurren Lagann, who can forget the loud-mouthed guy with sunglasses who would stop proclaiming his belief in the surface, where there is essentiall NO CEILING! However, I have yet to see a mainstream film that deals with the negative effects of a biased media.
In the end, our media just weaves illusion after illusion over our eyes. Illusions of love (especially between youths which usually turn out to be the result of one's developing hormones), illusions of heroism (either embellished tales regarding the lives of political figures or unrealistic tales of a hero coming to solve all problems) and illusions of happiness (everyone is always smiling despite being in a state of constant misery and squalor) infest local TV programming. In the end, with all the illusions woven over our eyes, we fail to see the more important aspects of our lives and remain in thrall to whoever controls the media who in turn controls the vast majority of Filipinos.
I HAVE RETURNED TO LAY WASTE TO OUR ENEMIES!