The trouble with Filipinos is that they think that everyone they deal with is guided by "Christian values". It is no surprise then that the Philippines fails in its efforts to get a solid footing in its management of two external threats currently menacing the homeland — China's progressive military takeover of the South China Sea (referred to by Filipinos as the "West Philippine Sea") and Malaysia's delegated invasion of a chunk of Mindanao that may one day be referred to as the "Bangsamoro nation".
What is the common denominator in these two crises? The clues are staring us in the face: China is an atheist society while Malaysia and its vassal group, the Moro Islamic Liberation Front are, well, Muslims.
As such, it is easy for one to find astounding naïveté in the way the Philippine government managed these issues.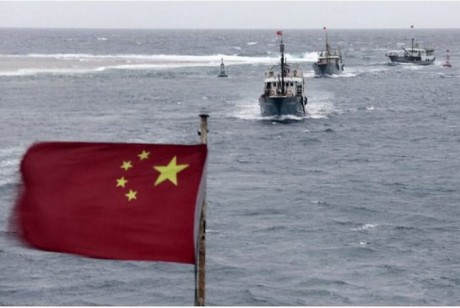 On the China front, the probable sentiment that the Philippine government applied to the problem is encapsulated in Raul J. Palabrica's Inquirer piece, China: déjà vu in reverse, particularly this snippet…
History is repeating itself in reverse. China's actions in the West Philippine Sea reprise its experience with the former colonial powers.

It's déjà vu, but this time it's China doing it to countries whose military forces are no match to its war machine.

Having suffered the humiliation of being bullied or forced to agree to iniquitous demands, China would be reasonably expected not to impose the same on its neighbours with whom it enjoyed, until the land grab, good diplomatic and economic relations.
That's typical Christianic thinking — that one would not wish on another something one would not wish unto herself. That's quite simply being naïve at a national level. Palabrica interpreted the historical context as one where China will supposedly have gained a bit more empathy as a result of its experience being bullied by European colonial powers in the past. But, really, what we are seeing today is something more powerful: learning.
China learned, from the humiliating experience of colonial subjugation — by turning itself into a self-reliant winner. It recognised its weaknesses (fragmentation and passivity) in the past and changed its fortunes by unifying its people and territories under strong central leadership guided by a powerful ideology that suits its renowned East Asian collectivist culture. Most important of all, it built a strong military and hoodwinked its former colonial masters into gleefully — and greedily — handing over to them their most cherished technological achievements.
That is how countries become great — by winning.
The Philippines, however, consistently takes the loser stance. It "hopes" and — worse — prays that China would be more "understanding" and exercise a bit of "empathy". That's like finding yourself face-to-face with a rabid dog and trying to talk your way out of being mauled. It does not make sense. The dog does not see you as someone worth spending the afternoon having a pleasant chat with. It sees you as someone threatening its territory. You and that dog are simply not in the same wavelength. Best thing to do is grab a big stick or make a run for the nearest climbable tree.
Unfortunately, the thinking of the Philippine officials who led the negotiation with the Moro Islamic Liberation front, Miriam Coronel-Ferrer and Teresita Qintos-Deles, were just as imprisoned by their Christianic upbringing. You could tell these two academics were led on by a bunch of wily battle-hardened phonies — literal phonies, in fact, considering we don't even know the real names of their counterparts on the other side of the table to this day.
Deles and Ferrer probably thought the same thing: we're being nice and thoughtful so we can reasonably ASSUME that the other party will do the same. This probably explains why the entire Bangsamoro Basic Law (BBL) enterprise rested on the utterly flawed premise that the Moro Islamic Liberation Front represented all of Pinoy Muslimdom, to the extent that an entire swath of that community was locked out of the loop, and why Senator Ferdinand 'Bongbong' Marcos Jr who is now tasked with putting red marks all over Deles's and Ferrer's shoddy schoolwork is now exhausted and furious…
We are doing your work for you. This is something you should have done during the process of negotiations so that when you presented the BBL to Congress then that version of the BBL incorporated into it all of the views, opinions, suggestions from all of the stakeholders.
So now the Philippines is at the bottom of a pit it dug for itself with two regional power players looking down with a smirk on their faces. What do we do next?
Abangan ang susunod na kabanata.
[Photo courtesy TheStar.com.]
benign0 is the Webmaster of GetRealPhilippines.com.