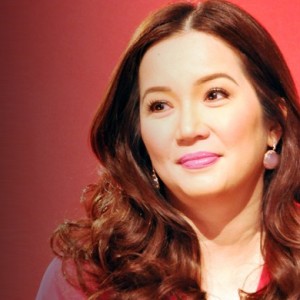 Media Queen or Media Whore? You don't need to take your pick. Kris Aquino, celebrity sister of Philippine President Benigno Simeon 'BS' Aquino III is both. She is highly bankable and deserving of her title as Queen of All Philippine Media; able to command millions in appearance, talent, and endorsement fees. In fact, if she ran for Philippine President in 2016, she will likely win.
Being the Philippines' top celeb, however, does not make Kris immune to butthurt. And when Kris Aquino is butthurt, Philippine Media indulge.
The "Feng Shui" actress and her two sons, Josh and Bimby, were on their way home to Manila when the men, who were ahead of her in line to check in at a Philippine Airlines counter, allegedly berated her.

She narrated: "[I was] respectful of [their] space… Na-shock ako when as they were exiting I was told, 'Get out of my f***ing way because I want to get out of this f***ing country.' 'Di ko sila hinaharangan, nakapila kami properly. I chose to keep my dignity and didn't reply.

"Sobrang stressful that when my sons and I got to the plane, they were seated near us. I just prayed that sana hindi na sila magpaka bastos my sons and I just get back to Manila safely."

Aquino pointed out that she could have answered back, but chose not to, saying it would be easy for her detractors to make the situation appear she was in the wrong.
I'm sure Kris is very happy that she has her personal media conglomerate looking after her. Hers is certainly quite the tough life, tougher than the lives of those 72 workers who died in a factory fire in Valenzuela yesterday.
You know those text clouds that show you which topic is "trending" or "hot" based on how big or small they appear? Well, you don't really need to go far to get a good snapshot of what Filipinos consider to be important. Just look at today's ABS-CBN News home page: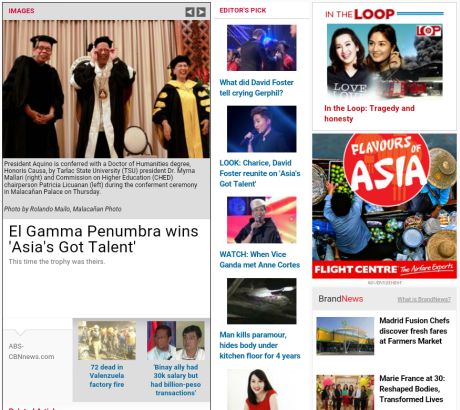 You get the idea, right? The 72 dead in that Valenzuela fire don't stand a chance against the star power of Asia's Got Talent, Charice Pempengco, the latest political mudslinging, and, yes, Kris Aquino.
Sure, the billions allegedly "stolen" by the Binay family is also important (though you could also note the humbler front page real estate that issue also occupies in ABS-CBN's online facade). But that's only news now because people and agencies who were supposed to be auditing and governing the activities of government officials failed to do their jobs for many years. Eleventh-hour "scoop" na naman makes headline news. Nice! Filipinos cry bloody corruption after turning a blind eye to it for decades. That's just so typical, right?
Back to Kris, I hope tumahan na iyak iyak niya. Spoiled brats, after all, get all the fun in the Philippines. They get to wang wang, counterflow, and kick MMDA ass with impunity. And that is what the Philipines is. A nation of crybabies tormented by the brats they idolize.
Frustrated artist doing geek for a living.