So legendary adult video (AV) star Maria Ozawa is in the Philippines. According to an Inquirer report, she is here to guest in Magic 89.9's "Boys' Night Out" spot on the occasion of the program's ninth anniversary last night.
Magic DJ Tony Toni posted this on his Instagram account yesteday: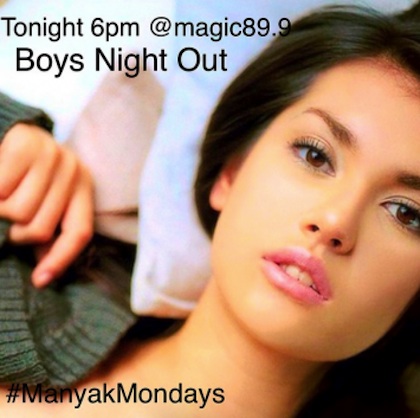 Note the hashtag: "#ManyakMondays". Lol! Ordinarily a girl wouldn't be too keen to come out in a show knowing she'd be the subject of kamanyakan (perving). But this is Maria Ozawa. I'm sure she's used to that sort of attention. After all, in her line of work and, now, as arguably the most famous of them (in Asia at least), that is exactly the sort of thing that adds to her personal brand.
I guess nowadays, personal brand is a big thing. You hear it all the time. The most prestigious management consulting firms have turned it into a business fad, what with all the "advise" being published everywhere about how today's up-and-coming professionals need to "work" on their "personal brands" to "get ahead". Go figure that out!
Speaking of which, Ozawa may as well be an ambassador for personal branding. Her career goal when she started in the business, funny enough, was simply to be "famous". In the video below, supposedly her "first English interview", Ozawa related how she set out to prove all her detractors wrong and that "porn stars could be famous too".
But at what cost? Ozawa drops a few hints in that video of the cost of achieving her personal goal in the industry, that some of her friends and even parents have "turned their backs against" her. But, she goes on to say, "at least now I'm really famous". She also gives some advise for the other struggling entertainers out there:
If you try hard, whatever you do, you could be, you know, famous.
Makes sense, right? 😉
I did catch a more poignant nugget of insight she revealed in that video. Ozawa recalled being told "if you are doing porn, you are [at] the lowest part you could ever be in your life" and her takeaway from that is that when you find yourself in the business she is in, there are no further lows to plumb, and that things can, if you work hard enough, only go upwards. "You are not gonna go anywhere," she says (but up, presumably).
So, my takeaway from this is that underneath Maria Ozawa's smiles and all the glitz she adds to the porn industry, and all the resulting impression we get that it is all fun, games, and raunchy glam for the performers in that industry, one of its most famous products herself described the work as "the lowest part you could ever be in". I hope the kids who get fed the false glam of adult entertainment take it from Ozawa herself and don't lose sight of that fact.
Frustrated artist doing geek for a living.