It's been a while since I've done an Alternative Media article as I had to take time to watch and read a couple of more stuff before I decided to go on with what was on my mind. Here's one of the latest ones I've managed to watch over the course of a few weeks with my friends and here are some of the things we've observed as well as a personal note on how it all relates to us and why we're recommending it to other viewers out there. Due to the sheer size (no pun intended) of the story's scope and themes, I decided to do an entire article about it (which I'm planning to do with future Alternative Media articles) which will try to cover the parts of the show that is most relevant to us Filipino viewers.
Attack on Titan or Shingeki no Kyojin ("Advancing Giants" in Japanese) by Hajime Isayama is currently one of the most popular anime shows to date. In Japan, it has gone on to rival that of The Walking Dead among the Japanese fanbase. A story filled to the brim with action, excitement and quite a bit of family-UNfriendly violence, the show is also widely known for an interesting cast of characters and their interaction with one another.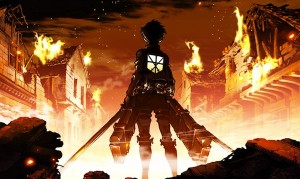 The story of Attack on Titan takes place in a walled enclosure where the remnants of a devastated humanity continue to survive. Blocked off from the rest of the world by three concentric walls, humankind lives a seemingly idyllic feudal lifestyle reminiscent of Pre-World War I Europe or Post-Civil War United States. However, just a few hundred years before, humanity was nearly hunted to extinction by a race of giants, now referred to as "titans", who lurk just outside the outer walls of mankind's "sanctuary".
The story kicks off when a gigantic titan, referred to as the "Colossal Titan", an enormous skinless brute with disproportionately small head and arms appears seemingly out of nowhere and kicks down the outer wall. Titans, who probably aren't all that different from the zombies (barring their sheer size) found in other franchises, pour into the breached wall and began devouring all the humans that they encounter.
The core group of protagonists in this show are Eren Yeager, a young man with a rather typical shounen attitude, Mikasa Ackerman, a Eurasian girl whose quiet beauty is only matched by her ruthlessness in combat and, finally, Armin Arlert, a vertically-challenged but brilliant young man whose keen eyes and quick thinking have provided the heroes with an edge against their oversized enemies. The show actually has a fairly large cast with quite a variety of characters including the occasional goofballs, the jerk with a hidden good heart and the utterly humorless ice queen. Pitted against them are the titular "titans" of the show, most of whom behave like typical zombies and just go around eating any and all humans that they encounter. However, something else is at work in humanity's redoubt as the forces at be seem to be hiding a deep and sinister secret.
Okay, this is as far as I'm going because saying anymore will give spoilers. Instead, I'm going to point out what makes this show so relevant which is partially based on one of my commenters' own opinions. Due thanks to Mr. Gaang and his rather sharp observations.
One Family Runs Society…
The heroes of the story live in a land that is ruled by one family. Of course, this is not obvious from the get-go and no, I'm not telling you who it is. The people in Attack on Titan essentially live in a feudal oligarchy where the powers that be keep people in the dark about what's really going on.
While the story may seem fairly simple at first, as it goes on, you begin to see that there is a bigger conspiracy at work. It doesn't take long for one to realize that while things may look okay on the surface, something terrible is happening and all of humanity, or what remains of it, are still in grave danger despite the platitudes offered to them by the noble families or oligarchs of the setting.
An Apathetic Nation…
The people in the story don't seem to really care that much about the things that don't affect them directly. Like many Filipinos in Luzon and Visayas, many of the common folk of Attack on Titan don't really care all that much about other victims as long as it's not taking place anywhere near them. In the first part of season one, when the Colossal Titan appears and tears down the outer wall, the people within the middle and inner wall don't even afford an effort to think about those trapped on the other side. Of course, this is somewhat understandable considering the kind of enemies they face, but a "screw them" attitude is a self-defeating principle that will eventually lead to our downfall.
Like the Fallen 44, the victims of the Maguindanao Massacre before them and every other hapless bystander in Mindanao who has been killed by terrorists, the people who were annihilated by the titans in the outer wall of Attack on Titan were simply considered "acceptable casualties" by their government and people. In the end, despite the tragedies the people of the outer wall have experienced, they were quickly forgotten as the people of the inner and middle walls were assured that they were "safe", without ever realizing that a similar predicament could easily befall them.
A Lack of Vision Among the People…
In the story proper, the heroes only discuss what could be outside the walls of their sanctuary. They are completely unaware of what goes on beyond the walls because the oligarchs ruling them find it more profitable to keep them in the dark. In the end, they remain ignorant about the possibilities that could improve their lives or the dangers that could, at any moment, strike them unexpectedly.
Using the stretches of water that divide us as a substitute for the walls, one can surmise that our media and government has effectively blinded us from seeing what is really going on in the Philippines. As our president seems to be betraying the people of Mindanao and offering its territories to Malaysia, will we also forget our brothers and sisters who dwell there?
If only we had people like Eren Yeager…
I HAVE RETURNED TO LAY WASTE TO OUR ENEMIES!