Yes, as mentioned by a commenter before, fantasies aren't going to save the country. They are only mostly ideas and, at the end of the day, ideas will not mean anything if no one will stand for them. However, it is often ideas that build people's character and, without good ideas, how can we hope to develop decency in our citizens when the only thing that's really available to them are stupidity inducing shows such as teleseryes and noon-time shows? Anyway, here is another line up of good TV shows or other media that one can consume as an alternative to the usual local programming…
Tengen Toppa Gurren Lagann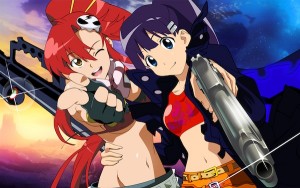 WARNING
Okay, okay, before we continue, I'm going to warn you about there being major spoilers ahead. So if you'd rather not find out about the show's major spoilers, I strongly suggest you skip ahead to the next section. The end of the section will be marked with bold letters.
START
Anyway, Gurren Lagann is certainly one of the more controversial anime shows out there because of the over-the-top manliness of the characters, ubiquitous fanservice, slapstick comedy and the utter audacity found throughout. However, beneath it all, I saw a glimpse of what the ultimate message of what the show was actually about. Take note, this is supposed to be a take on what the Japanese would see as a Saturday Morning Cartoon. If this is the kind of message the Japanese feed to their children's minds, then it's of little surprise that they are one of the more forward thinking of people in Asia. Let's look, shall we:
Progress is About Determination: In order for good things to happen, we need to stay focused on what's important. Yes, the anime is just filled with a lot of over-the-top gags throughout but the more important matters always take priority. The entire cast is composed mostly of goofballs, madmen and misfits but their goals are almost always clear. They may joke, they may laugh and they may get naked for no real reason but they know what they're fighting for and they will fight for it until the very end. As Kamina (who many fans see as a parallel to Jesus even) said: "People have two eyes in front of their heads so they can see and move forward. If they were on the back of their heads, all they would see is what they're leaving behind and they would become sad, no longer able to continue."
Choosing What is Right Over What is Easy: Near the end of the show and tying in with the second statement above, the heroes are caught in a world of illusion and are presented with their ideal version of the world. Simon himself is presented with his ideal version of Kamina, one that kept to the sidelines and just did crimes instead of the real Kamina's open rebellion. I find this similar to the way that the Church bowdlerizes everything, including the fact that Jesus Himself was quite a rebel against organized religion back in His day. The real Kamina shows up and asks a confused Simon which he would choose, the whitewashed Kamina or the real one who, while dangerous, was one who had principle. Thereafter follows awesome moments of ass-kicking.
WHO THE HELL DO YOU THINK WE ARE!!!
END
Um, excuse me…
The Green Mile
Renowned horror writer Stephen King comes up with something quite different in this story. Originally a book series that retained some horror elements, it went on to become more of a supernatural drama when it became a film.
Both the book and the movie focus on the lives of guards who work at a prison, specifically in death row and the prisoners they often have to interact with. While I prefer the book over the film because the latter tends to skip over a few details, both were really good for making a realistic and humanizing depiction of death row convicts and the guards who work with them. Instead of just showing crazed murderers vs. good guards or cruel guards vs. innocent prisoners, The Green Mile shows that there are good and bad people on both sides. There are prisoners who are unrepentant scoundrels and there are those who were just overwhelmed by their emotions. While most of the guards are good, there's no question that there are probably bad ones among them as well.
Overall, the film shows that just because someone has made some mistakes in their life doesn't mean they're evil to the core and just because someone is on the side of the law doesn't mean they have good intentions. In the end, supernatural matters aside, The Green Mile shows that we are all human beings and that being good or evil is more dependent on the choices we make in our lives, not who or what we are. We are all capable of doing both good and bad, but it is what we choose in the end that marks us.
Suikoden V
The Suikoden series out there with and is well-known for having so many characters. In the game proper, you play the role of a prince in a fantastical kingdom. However, the kingdom is ruled by a succession of queens (making it more of a queendom) and males are barred from taking the throne. So instead, you play the role of a diplomat, going from city to city and nation to nation to speak with allies to bring help to your kingdom when it gets into trouble.
With more than 108 characters to meet, this is certainly a must have for those who like both grand strategy games and RPGs. Like Mass Effect, your every decision carries weight and the wrong ones can spell trouble for your kingdom, your family and the rest of the people you hold dear. That is why it is especially important to choose your words and actions carefully in this game as the wrong ones will not bode well for you and your loved ones. Also like the Civilizations games of late, diplomacy takes center stage and choosing how to deal with allies and their troubles is important if you want the best ending.
I HAVE RETURNED TO LAY WASTE TO OUR ENEMIES!