In the olden days, people were almost never safe. I remember writing in a previous article that during the times of Ancient Greece, people considered themselves safe when they weren't in any immediate danger. In those days, barbarism was all too often a common occurrence (and probably one of the major causes of death) and people often lived in fear of being attacked. If you recall how crappy life was under the rule of feudal lords and despotic kings, you should also remember that people actually put up with this kind of bad governance because they were easily preferable over that of the barbarians whose usual means of recreation were raping, robbing and killing.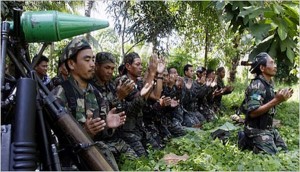 Today, with the never-ending and ever-worsening problems down south, I'm worried that I'm beginning to see a twisted parallel between the barbarians and nobles of old to the terrorists and government today. That's right, the latest news regarding the peace talks with the rebels down south remind me all too much with how the feudal lords were able to manipulate the peasants into accepting their unquestioned rule. It was very simple really. Serve me and I keep you safe, rebel and you will be at the mercy of barbarians. While life was hard back then and people really had to put their back into it to survive, a lot of peasants believed that it was probably a lot better than let the barbarians rape their wives and daughters (or sons and husbands), steal their belongings, destroy their homes and outright kill everyone else. Whatever the case, it worked all too well because the peasants were simply too scared to mount any kind of revolt against their tyrannical leaders.
But enough of conspiracy theories for now. Let's go back to the here and now and the facts we have to face in case we do decide to give into the demands of terrorists. While the United States is sometimes called out on being "unfair" about their "never negotiate with terrorists" policy, one can argue that there is a good reason for not playing along with terrorist ploys. Here's a better look at what I'm talking about:
It Spits on the Face of Justice
Put aside the Fallen 44 for now and look back on the other misdeeds of these rebels. How many hapless civilians and innocent bystanders have they killed over the years in the course of their rebellion? How many other police officers did they have to butcher to further their goals before they finally came upon the forty-four members of the PNP-SAF? These questions alone should be enough to give people some thought before going out to negotiate with these criminals.
From even before the Fallen 44, these so called "liberators" have made it clear what they really are: criminals. They are thieves and murderers who need to face justice and be held accountable for the lives they've taken over the years. It's quite obvious from the get-go that the so-called negotiations isn't about justice or peace but simply about satiating and playing into the hands of these terrorists.
As Benign0 states in his own article, where is the justice in negotiating with these scum. What about all the people that died? What about all the people that they may kill in the future to further their goals?
I know that hurting or arresting these criminals isn't going to bring those Fallen 44 back to life but are we really wiling to let these rabid dogs run around free to kill even more people, soldiers and civilians alike?
Appeasement isn't a Long-Term Solution
As proven in World War II when the Allies tried to negotiate with the Axis forces before the war started, appeasement isn't a long-term solution to a major geopolitical problem. It was quite clear that these terrorists aren't going to stop with just their bill. The government has done numerous peace talks with them before and none of them have ever really lasted long. In the end, these same criminals break their promises and refuse to keep their end of their bargain because they want more.
In the end, if all we do is appease these terrorist scum, they may end up owning the rest of the country. It's like giving in to the demands of a spoiled child. Once you get them accustomed to taking advantage of you, they'll be doing it every other time to get what they want.
By giving in to their demands now, we set ourselves up to be (or already are) the suckers of these criminals. We will just end up giving them more and more of what they want until it's too late for us common people to do anything about it.
When will our government realize that there is no point in negotiating with madmen? Will our government finally realize their mistake when these terrorists are beating down the doors to Malacanang? Will they reconsider their policies regarding terrorists when these scum finally hold them and their families at gunpoint?
Giving Into the Demands of a Terrorist Organization Might Give Ideas to Others
Okay, this is what worries me most. No, I'm not talking about keeping up the image of being macho and all. I'm talking about the fact that if you show weakness, other people might start taking advantage of you.
For instance, when a young beggar boy approached me and I gave him a coin, a whole gang of them swarmed me. The same can be more or less said about these terrorists. When we show them and the rest of the world that we're willing to negotiate with people who do enough killing, what's to stop everyone else from doing the same thing.
Right now it's just these terrorists down south. But what if, say, the communists decide to get into the action too and take their own share of hostages and shoot police officers along the way? Or worse yet, what if China sees this as a potential weakness for their own agendas and takes a large number of our fellow Filipinos hostage so that we will be forced to hand over more of our territories to them?
For the safety and future of our country, please think about this. Giving into them will just make things worse. The heroes of our history fought and died for our freedom. I hope you even have some inkling of their courage.
[Photo courtesy New York Times.]
I HAVE RETURNED TO LAY WASTE TO OUR ENEMIES!