Ha ha! It seems fans of Filipino "royal couple" Dingdong Dantes and Marian Rivera are still royally butthurt over explosive exposés on the outrageous extravagance of their wedding. Back in early January, Ilda posed the question Did the Dingdong Dantes-Marian Rivera wedding violate the Philippine Civil Code against 'thoughtless extravagance'? The post generated a lot of debate and drew in a lot of furious "DongYan" fans. Looks like they are still on a rampage though, waiting to pounce on the next opportunity to redeem the lost honor of their prince and princess!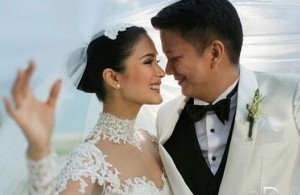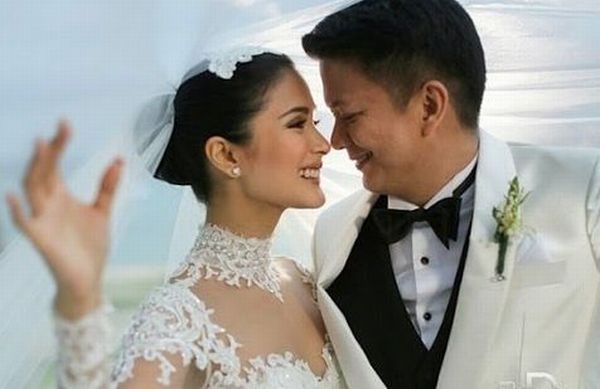 Seems they found one such opportunity again. Last week another Pinoy royal couple wed. Senator Chiz Escudero married actress Heart Evangelista — his second wife. (Oh, excuuuuzzee me, his first "marriage" was supposedly "annulled" making that one the marriage that cannot be mentioned — wink-wink…)
So was Chiz's and Heart's wedding as outrageously extravagant as the DongYan spectacle? Well, the only mainstream media article coming close to bagging that wedding I could find was a Rappler article asking: How can a 2nd 'poorest' senator afford a Balesin wedding? Funny enough, the author of the report described that wedding as one that "may as well be the wedding of the year". It was "star-studded" and easily "could be the grandest matrimonial event of the year."
In short, according to the Rappler "report", taob ang DongYan 'royal wedding' sa wedding of da yir ni Chiz at Heart. Ha ha!
So maybe it is true. Perhaps Chiz and Heart did outdo Dingdong and Marian. Not to worry, Marian is still top suplada queen, I heard. Maybe that is why her wedding attracted a lot more derision than Heart's who, presumably is all heart (pardon the lame pun). But is Heart more hearty than the reputedly heartless Marian? Ating alamin… The Chiz-meez (again, pardon the pun) is that Heart is a pretty decent person. In contrast, the chizms about Marian is all but. Stories abound all over the net recounting her Spanish conquistadora-style behavior. But I'll leave that to the madla to sort out. One indio's conquistadora is another's peninsulares's prinsesa, right? Or is it the other way around? Too confusing!
Thing with the Pinoy masa is that they don't have very stable principles. They'll pull the guilt-trip on you with their batang yagit act whenever victimhood suits them, but then turn around and worship colonial royalty when out scrounging for their daily showbiz eye candy fix.
To be fair, though, there is reason to be a bit more angry about Chiz's and Heart's wedding. Chiz, after all, is a Philippine senator. And seeing all the who's who of big business and politics in the guest list makes you wonder how he will nagivate the minefield of conflicts-of-interest that all this pandering will present to him. What, for example, if big-bad San Miguel Corporation is found to be involved in unethical business practices and needs a spanking? Well, its CEO Ramon Ang was a sponsor at Chiz's wedding, so I doubt that Senator Chiz will be making a beeline to any Senate 'probes' into a hypothetical San Miguel transgression anytime soon — not even for the much-needed media mileage that might get for him.
Still, there really is no point in putting the Chiz-Heart 'wedding of the year' side-by-side with the DongYan 'royal wedding' in a pataaasan ng ihi contest. Both of those circuses are the same — abominations in a country of hopelessly-wretched people. One does not absolve nor validate the other. They are events that find a place in an impoverished society only because Filipinos are "special" in the sense that they cannot smell trashy stuff stinking up their own backyard.
To give credit to President BS Aquino, he did learn something from the DongYan wedding — that is, not to touch big ostentatious weddings with a ten-foot pole from then on. Then again, I can already hear the bright comeback, Dingdong's and Marian's fans might issue sometime soon — DongYan beats ChizHeart anytime because no less than the president graced the earlier's wedding. Ha ha! Yeah, if you say so.
Frustrated artist doing geek for a living.