So I discussed the controversial case of PWU and STI with other writers of Get Real Post and it was generally agreed that it's a real life example of how Pinoys dig themselves into poverty.
Good old Benign0 has been saying for years that poverty is simply entering into obligations that you can't fulfill and to me, that really sounds like borrowing money that one has no intention of paying back.
I can sympathize with really poor folk who borrow money when they are faced with sickness or death in the family. When my son's yaya rushed her four year old kid into a private hospital because she had a serious bout with pneumonia, I shouldered the entire bill and then some. I would have written off the whole amount but I was prevailed upon by someone else to let her pay off the debt at P500 a month, just so that my son's yaya would learn a thing or two about paying debts.
SUPPORT INDEPENDENT SOCIAL COMMENTARY!
Subscribe to our Substack community GRP Insider to receive by email our in-depth free weekly newsletter. Opt into a paid subscription and you'll get premium insider briefs and insights from us daily.
Subscribe to our Substack newsletter, GRP Insider!
Learn more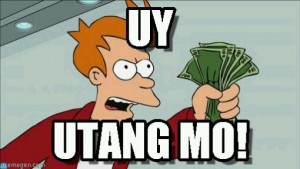 Then again, there is the other sort person who borrows money for stupid, selfish reasons and the worst of those reasons is having to maintain some sort of lifestyle that is beyond their means.  That's the sort of person who blows their entire income on luxuries items and then borrows money for their daily needs, like food or fare. It can be an employee who earns P15,000 a month who buys the newest Iphone or a lowly laborer who finances his drinking spree by having all of this drinks as well as grub entered into the store's listahan.
My mother sums it up quite nicely by saying, "If you earn a million pesos a month and spend a hundred pesos more than what you have, you'll still be poor because you actually have than what you have."
I know, it's a very simple notion but it's one that has kept me out of huge and long term debt. But as good as that advice is I recognize that it is more easily applied to personal finances.
There are situations where businesses must spend more than it earns especially when their speculating on a path of growth or are going into a seasonal slump or have suffered some kind of setback.  One reason is that suppliers and employees have to be paid, no matter what — that is, unless, you want your business to really bite the dust.
Thing is, if the shocking facts about how the Bentiezes ran PWU were true, it would look like they weren't borrowing money to finance expansion or get them through a slump. As hard as it is to say, folks, it's a big NOPE.
Thing is, the Benitezes are all over the place telling everyone that the reason why they are going against STI Group's plans to "commercialize" the land where JASMS EDSA is located is because the parents of students signified their opposition to it.
HOW CONVENIENT, really. And as it turns out, IT IS COMPLETELY UNTRUE.
But before that, let me ask all those who are loyal to the Benitezes and the parents of students in PWU and JASMS if they were told and agreed to PWU  funding Amelou's gold hunting expedition or Jolly's foolish financing of the acquisition of inalienable (not for sale) land in Caliraya? Probably not, because my informants tell me that this is the first time that they've heard of it and seen the papers.
Going back to the Benitezes and the commercialization of part of JASMS EDSA's one hectare lot, as it turns out, THE BENITEZES WERE ALL FOR IT.
The Benitez family keeps making people believe that the reason why they wanted to get out of their loan agreement with STI Holdings is because the family was against the plan to put up a mixed used property project in its JASMS property in Quezon City. It was the deal breaker, the Benitezes said, in an article that came out in Interaksyon.
However, documents sent to us seem to tell a completely different story. Not only were the Benitezes supportive of the plan to develop the property, but its patriarch, Jolly Benitez, also wanted to transfer the entire school all the way to Fairview.
According to the minutes of meeting in the Unlad (sister company of PWU which manages the school properties), Jolly Benitez reasoned that not only would transferring JASMS to Fairview allow for more open spaces, they would also be able to buy a new property for a lower price.
Here's a screenshot of the May 8, 2014 minutes of the Unlad board: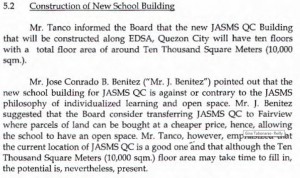 The screenshot reads…
5.2 Construction of New School Building

Mr. Tanco informed the Board that the new JASMS QC Building that will be constructed along EDSA, Quezon City will have ten floors with a total floor areas of around Ten Thousand Square Meters (10,000 sqm.).

Mr. Jose Conrado B. Benitez ("Mr. J. Benitez") pointed out that the new school building for JASMS QC is against or contrary to the JASMS philosophy of individualized learning and open space. Mr. J. Benitez suggested that the Board consider transferring JASMS QC to Fairview where parcels of land can be bought at a cheaper price, hence, allowing the school to have an open space. Mr. Tanco,emphasized that the current location of JASMS QC is a good one and although the Ten Thousand Square Meters (10,000 sqm) floor area may take time to fill in, the potential, is, nevertheless, present.
However, Mr. Eusebio Tanco tried to convince the Unlad board to keep JASMS in its current location. He said the project would have an al fresco area between the school and the mall. Ayala would also build an open space in the roof deck to comply with the open space requirements of JASMS.

Mr. Tanco informed that Board that there will be an open space or al fresco between the school and the mall. In addition, the open space at the roof deck of the mall may also be used by the school, which should be enough to comply with JASMS' philosophy regarding open space.

Mr. J. Benitez withdrew his objection on the construction of the 10 story JASMS QC Building provided the school can construct a bridge at the fifth floor of the School to gain access to the roof dec of the mall. He also suggested that the Board consider leasing a land across the street at Vertis North to have additional open space.
No one from the Benitezes had anything to say, other than Jolly's idea of moving JASMS to Fairview.
In fact, the Benitezes have long been trying to evict JASMS out of the EDSA property QC to give way to a commercial and residential area there. In the mid-1990s, the Benitezes managed to get P250 million from Jardine Land to do exactly this. Nothing came out of this Benitez-initiated project — and strangely, all the money was gone.
That is why Jardine foreclosed a 1.1-hectare portion of the JASMS property, which the STI group bought back from Jardine to the tune of P250 million. These are facts that no one from the Benitez could manage to deny in their press releases.
The challenge now for the Benitezes is to deny these discussions in the Unlad Board. Can they deny that Jolly Benitez wanted to transfer JASMS to Fairview? And did they really oppose the project as they claim in their press releases?
Not really, especially now that the same document shows that three members of the Benitez family signed the minutes of this May 8, 2014 board meeting, namely PWU President Francisco Benitez, Conrado Benitez II, and Alfredo Benitez Reyes.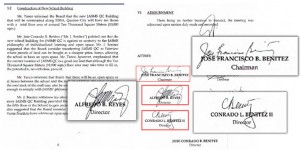 People from PWU who gave us these documents also sent three more sets of minutes of the Unlad board. Apart from the May 8 meeting, the Unlad board also met in March 25, 2013, one in November 20, 2013, and another in February 27, 2014. In all these meetings, the proposed development project with Ayala was discussed and in all the minutes, it was mostly majority members of the Benitez family who were all for it.
For instance, in March 25 meeting, five out of eight directors were from the Benitez group:
Alfredo B. Reyes-Benitez, Jose Conrado Benitez, Conrado Benitez, Jose Francisco Benitez, and Bienvenido F. Santiago. It was in this meeting that the idea of developing JASMS was brought up, starting with the creation of a construction committee.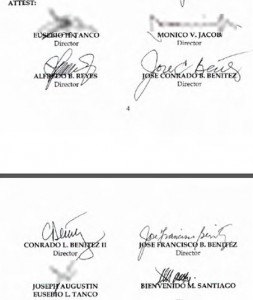 In the November 20, 2013 meeting, five of the seven directors who approved the minutes were also from the Benitez board: Jose Franciso Benitez, Jose Conrado Benitez, Alfredo Reyes, Conrado Benitez, and Bienvenido Santiago. Here, the board designated no other than Jolly Benitez (father of PWU Pesident Kiko Benitez) to head the newly-formed construction committee.
Meanwhile, four of seven directors—namely Francisco Benitez, Alfredo Reyes, Conrado Benitez, and Bienvenido Santiago—approved the minutes of the February 27, 2014 meeting of the Board. In this meeting, the board was already tackling the details of the joint venture with Ayala.
You would wonder: Was there anything in the discussion to confirm that the Benitezes vehemently opposed the project with Ayala, as they claimed in the news and among their alumni, parents, and students? Certainly they would have said something since they form majority of the board.
To be fair, the father of PWU President Jolly Benitez, Mr. Jolly Benitez, brought a matter that is very important for him. In the November 20 meeting, he stood to make this very urgent point:

Mr. Jose Conrado Benitez ("Mr. J. Benitez") stated that the parking structures should not be too far from the shopping mall as people might not be inclined to go to the same if they have to cover a long distance from the parking to the mall. Mr. Tanco stated that ALI will have already considered Mr. J. Benitez's concern since ALI has already constructed several malls.
Yes, dear alumni and parents of JASMS parents, the father of PWU President can only manage to come up with one pressing subject matter – PARKING.
So that sums up the "strong opposition" of the Benitez family to the development project in JASMS. The first one is they want to move the school to Fairview and second one, they want better parking.
Is this the #SavePWU crusade the Benitezes are talking about?