A "very dangerous situation" is now "evolving" in the Philippines as Super Typhoon Hagupit (Tropical Cyclone 22W locally code-named "Ruby") approaches the Philippines threatening to impact at least 30 million people according to the latest AccuWeather.com report filed about 0100H 05 Dec 2014 Philippine time…
Hagupit rapidly strengthened into a super typhoon on Wednesday afternoon and continued to strengthen through Thursday with sustained winds over 255 kph (160 mph).

This intensity is equivalent to a Category 5 hurricane in the Atlantic or Eastern Pacific Ocean.
The latest forecast issued by the United States Naval Observatory (USNO) based on a Joint Typhoon Warning Center (JTWC) report puts the projected trajectory of Hagupit on a course to hit close to Metro Manila.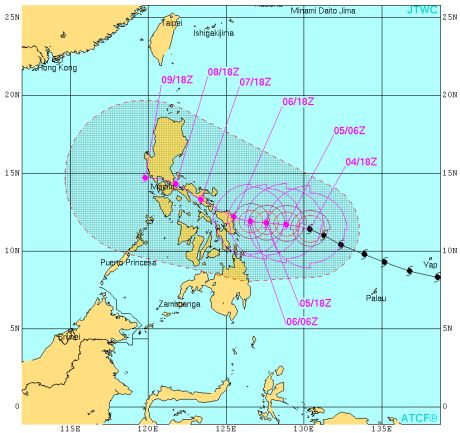 [See full US Naval Observatory weather update graphic as of 04 Dec 2014 here.]
A recent USNO analysis reports that the storm is on a West-Northwestward course with satellite imagery indicating a slight weakening trend. Hagupit is expected to first make landfall at Samar and tear through the Bicol peninsula. Beyond that, the range of possible courses remains wide putting its position further West after this at anywhere between Cagayan Valley in northern Luzon and just north of Cebu.
What were initially inconsistent forecasts coming from American and European weather modelling systems have now converged. The now largely-consistent forecasts paint an "ominous" picture according to a Weather Channel report…
First, the typhoon is expected to approach the eastern shores of the central Philippines on Saturday local time. There is still some timing uncertainty, as the typhoon is expected to slow its forward motion. However, the most likely time frame for landfall appears to be Saturday evening local time (Saturday morning U.S. time).

During this initial period of contact with land, Hagupit will likely unleash its most powerful winds. It should be at least a Category 3 equivalent tropical cyclone by that time, but could easily still be a Category 4 or 5 storm. In areas where the wind blows onshore, very dangerous storm surge is likely.

As Hagupit grinds west or northwest across the Philippines, the danger will gradually transition from one of wind damage and storm surge to one of heavy rainfall.
Movement across the Philippines is expected to be "agonizingly slow" and heavy rainfall is likely as the storm weakens over the coming weekend.
Panic buying has been reported in some parts of the areas directly threatened by Hagupit as residents in these areas brace themselves for the coming devastation. Much of the areas expected to bear the full brunt of Hagupit are still reeling from the disaster unleashed by Typhoon Haiyan which hit the Philippines in November 2013…
Buyers emptied shelves in shops and queued at petrol stations in Tacloban and towns on Leyte island where Super Typhoon Haiyan struck with winds in excess of 300 km/h on November 8 last year, killing 6300 people, leaving 1000 missing and displacing 4.1 million others.

Japan's meteorological agency predicts the new storm called Hagupit – Filipino for lash – could pack winds of up to 212 km/h when it makes landfall this weekend.

Experts say a storm of this magnitude would bring sea surges up to four metres and wreak havoc in the same areas that were devastated by Haiyan where thousands of people are still living in makeshift accommodation.
This has prompted the Philippine Government to mount efforts to calm the panic by assuring the public that a sufficient supply of basic goods will be made available. But there are also reports of "stores shutting days ahead of the typhoon in order to raise prices of goods later" prompting the government to consider "declaring a state of national calamity to freeze prices of basic goods."
Various Philippine government disaster response and management agencies as well as the country's armed forces are reporteldy now on "highest" alert. Armed Forces of the Philippines (AFP) spokesman Restituto Padilla reports that "The red alert status came into effect enabling AFP's Central Command to work with other agencies, including the National Disaster Risk Reduction and Management Council and Office of Civil Defence".
benign0 is the Webmaster of GetRealPhilippines.com.