Updated forecasts have put Super Typhoon Hagupit (locally code-named "Ruby") landfall in the Philippines tonight (Saturday evening 06 Dec 2014 Philippine time) and is expected to cross near Manila sometime late Monday, 08 Dec 2014) according to Joint Typhoon Warning Center (JTWC) reports.
Forecast trajectory of the storm is "very close to the 'multi-model' consensus" which means that major weather modelling systems around the world are largely in agreement allowing greater levels of confidence in the forecasts.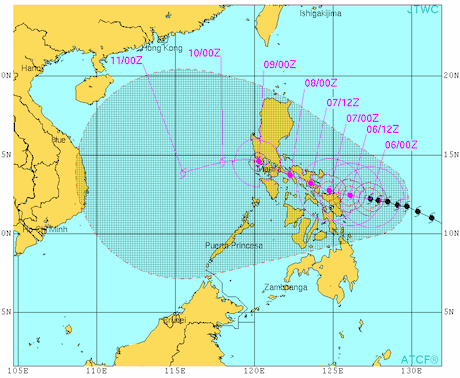 [See full US Naval Observatory weather update graphic as of 06 Dec 2014 here.]
Intensive evacuation of affected residents are underway. A BBC report describes the effort as "one of the largest peacetime evacuations the country has ever seen." Also…
President Benigno Aquino, who met disaster agency chiefs on Friday afternoon, has ordered food supplies to be sent to affected areas, as well as troops and police officers to be deployed to prevent looting in the aftermath.
Hagupit follows its predecessor Super Typhoon Haiyan (locally code-named "Yolanda") which devastated the same general area in November 2013. Residents in these areas, owing to the experience, are now likely to be far more prepared. According to the latest
Weather Channel
report
, Hagupit tied with two other Super Typhoons Vongfong and Nuri for most powerful in 2014…
As of 9 a.m. EST Friday, JTWC raised its estimate of Hagupit's top winds to 150 mph, making it once again a "super" typhoon, the equivalent of a Category 4 hurricane.

The Japan Meteorological Agency (JMA) earlier declared Hagupit a "violent" typhoon, the highest classification on its scale, with 10-minute sustained winds of 130 mph and gusts to 190 mph.
Hagupit is expected to take up to four days to cross the Philippines. It is expected to weaken further along the way although the weakening may likely induce heavy rains which means flooding will also be an eventuality that needs to be prepared for.
The Philippines' Department of Health Secretary Janette Garin reports that government health agencies are "preparing like it is going to be a Yolanda" and is hoping that a new "buddy system" amongst hospitals will improve the delivery of their services over the course of the crisis.
benign0 is the Webmaster of GetRealPhilippines.com.