Thanks to "the largest peacetime evacuations the country has ever seen" mounted in preparation for the coming of Super Typhoon Hagupit (locally code-named "Ruby"), death at the appalling scale seen during last year's devastation wrought by Super Typhoon Haiyan (locally code-named "Yolanda") had been largely avoided so far. According recent forecasts, the next major populated area Hagupit may hit is Calapan City in Mindoro Island. The most recent Weather Channel report on Hagupit indicates that the storm has weakened to "the equivalent of a minimal Category 1 hurricane" as of yesterday (Sunday 07 Dec 2014) afternoon with "sustained winds of about 75 mph".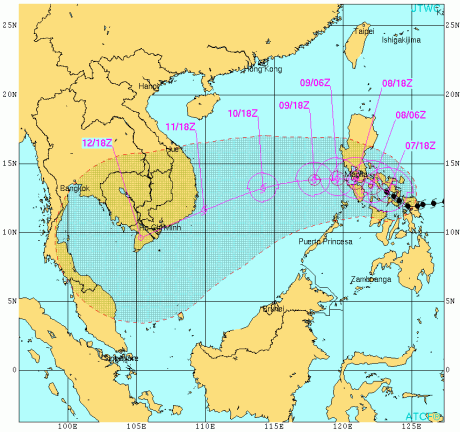 [See full US Naval Observatory weather update graphic as of 08 Dec 2014 here.]
Landfall at Calapan City is expected at 6 pm tonight (08 Dec 2014) Philippine time while the Philippines' capital in Metro Manila is expecting the worst effects of the storm from 8-10pm the same night. Threat levels to lives and property is expected to be reduced from that originating from storm surges and winds to mainly heavy rains as it approaches Manila.
Nonetheless, Hagupit still left a trail of destruction in its wake midway in its slow 10-kph journey through the Philippines. Tacloban City, still reeling from late-2013's Haiyan is again flattened, many of its residents coming back to find they've lost everything again. Temporary houses built to house the victims of Haiyan had been destroyed as well.
A recent Straits Times report puts the casualty figure so far at six dead…
Scattered reports said six were killed as Hagupit made landfall last Saturday night and swept across the central Philippines yesterday. A 75-year-old woman was reported to have drowned when a storm surge hit Catarman town in Northern Samar province, while a one-year-old girl and a 65-year-old man died of hypothermia in Iloilo province.
The casualty figures, however, mark a big change in the manner with which the Philippine government had chosen to prepare for this storm — hopefully a change that, in the future, could be applied in a sustained manner over the longer term. The earlier Weather Channel report cited summarises the death toll history that possibly reflects the level of preparedness in past years and highlights how much of Haiyan's lessons may now have been finally applied, likely due to the huge amount of media attention Haiyan attracted from the world in 2013…
Over the past 10 years, six separate tropical cyclones have claimed over 1,000 lives in the Philippines, including:

– Haiyan/Yolanda Nov. 2013: Over 7,300 killed (AP)
– Bopha/Pablo Dec. 2012: 1,901 killed
– Washi/Sendong Dec. 2011: 1,268 killed
– Fengshen/Frank Jun. 2008: 1,410 killed
– Durian/Reming Nov./Dec. 2006: 1,399 killed
– Winnie Nov. 2004: 1,593 killed
Hagupit's predecessor Super Typhoon Haiyan devastated the same general area in November 2013. The Weather Channel ranked Hagupit along with two other Super Typhoons Vongfong and Nuri as the most powerful ones in 2014. Typhoon Bopha (locally code-named "Pablo") hit Mindanao in December 2012 and was among the first of powerful Category 4-5 supertyphoons that has started to routinely form near the equator and the strongest to ever hit the Philippines' southern-most island of Mindanao.
Typhoon Washi (locally code-named "Sendong") devastated the northern Mindanao City of Cagayan de Oro in 2011. Washi was a seminal typhoon disaster in that it was the first in which the ineptness with which the Philippine government handles disasters and wastes opportunities to save lives was first highlighted. A scandal that punctuated this lack of priority the national government put on preparedeness at the time erupted after a tweet fielded by Filipino starlet Valerie Concepcion revealed that Philippine President Benigno Simeon "BS" Aquino III may have been busy "laughing at [the] jokes" and "enjoying [her] performance" in Malacanang the night Washi was laying waste to Cagayan de Oro City.
benign0 is the Webmaster of GetRealPhilippines.com.