Traffic flow on Metro Manila's main arteries is routinely being jammed by public utility buses loading and unloading indiscriminately in the middle of the road. This is one of the obvious problems plaguing the country that Filipinos are seemingly too stupid to do anything about.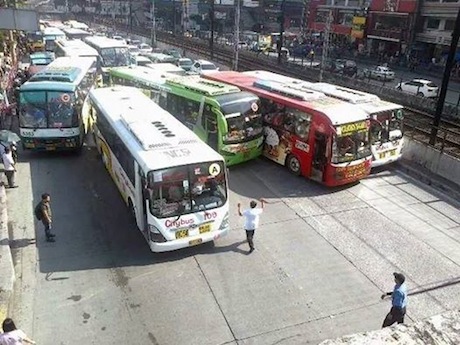 We tolerate public utility buses loading and unloading indiscriminately in the middle of the road — an obvious problem that begs an obvious solution that strangely swamps the intellectual faculties of the country's foremost "thought leaders".
SUPPORT INDEPENDENT SOCIAL COMMENTARY!
Subscribe to our Substack community GRP Insider where you can opt to receive by email our more comprehensive and in-depth free weekly newsletter GRP Mail. Consider also supporting our efforts to remain an independent channel for social commentary and insight by sponsoring us through a small donation or a monthly paid subscription.
Subscribe to our Substack newsletter, GRP Insider!
Learn more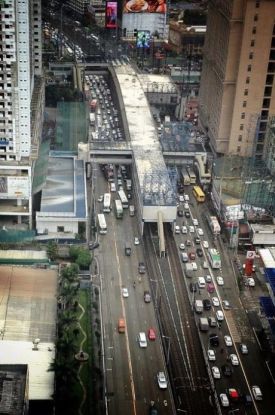 Recently, Filipinos had been up in arms over a hare-brained proposal issued by the Land Transportation Franchising and Regulatory Board (LTFRB)…
"We have to give priority to the public utility vehicles since private cars can find other roads apart from EDSA," LTFRB board member Ariel Inton said in an interview yesterday.

Inton proposed that a private vehicle will not be allowed on EDSA from 6 a.m. to 9 a.m. four days a week, but allowed to pass through other roads.

All vehicles will be allowed along EDSA and other roads from 9 a.m. onwards.
Clearly, the wrong parties are being made to suffer for the sins of what really is the big elephant in the room — often criminally-insane public utility bus drivers who wreak further havoc to the already untenable traffic situation in Metro Manila's roads.
What makes Metro Manila's privately-run buses so special that their practices are virtually immune to scrutiny? The plot thickens…
[Photos courtesy Towie Vasquez and Boylit De Guzman.]
benign0 is the Webmaster of GetRealPhilippines.com.