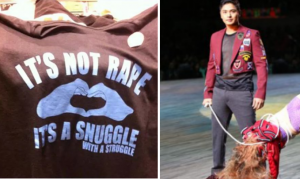 If my eyes can taste, these images leave with me a flavor that's one for an up chuck!
Both bilious are  Stylebible.ph's photo of the S & M tinged number taken at a sexually amped-up "fashion" show of a leading garment brand and the viral shirt photo posted by a writer as it was being sold, of all places, at the Teen Boy's department of a mall empire's branch. I was among the many who was revolted upon seeing both at my social media feeds.
The issues at hand are not just offensive to the feminine of the gender but an augury to Philippine society that is being conditioned to:
SUPPORT INDEPENDENT SOCIAL COMMENTARY!
Subscribe to our Substack community GRP Insider to receive by email our in-depth free weekly newsletter. Opt into a paid subscription and you'll get premium insider briefs and insights from us daily.
Subscribe to our Substack newsletter, GRP Insider!
Learn more
CONDONE THE RELEGATION OF WOMEN.
ACCEPT RAPE, REGARDLESS OF GENDER, AS A NORMALCY and worse, ASSOCIATE THE CRIME TO AFFECTION.
Beyond the gender sensitive issues raised, we have here TWO BUSINESS GIANTS that promoted, not only the aforementioned but, the glaring APATHY that they so brazenly capitalized on!
Surely, both the shirt and the on-stage "Master & Servant" role play went through CONCEPTUALIZATION before it hit PRODUCTION! Yet NONE, from The Mall's  consignor to the Purchasing department or from the Fashion show's writer to the Director saw ANYTHING OFFENSIVE! Their apathy was met with fury, online! It only took around 24 hours before a band aid solution from the big retail brands was made.
A TEMPLATE INVESTIGATION and APOLOGY from the two retail giants was the response to silence the online castigation. I'll push my imagination to include the axing of The Mall's underpaid purchasing staff or the reprimand of the fashion show's writer and director. Another "I AM SORRY." is made and all is well in La-la land once more.
In a gadget-crazed selfie society that puts more premium to fame whoring and the superficial rather than to empathy and sustainable stability, I guess a product or photo pull-out complemented with a pathetic "Sorry" will do and as sure as the sun rises tomorrow,  all will be forgotten in a week from now. It's going to be Pay day again and these business giants will again entice on another salary siphoning mall sale!
The economy is doing oh-so-goood, right?
The shirt and the "Master and Slave" role play is so yesterday's news.
Or is it really?
Unfortunately,  the issue and its implications is a microcosm of a country that has been CONDITIONED by a dysfunctional system, has RELEGATED its people to automatons and is RAPED by a government that has failed to deliver yet is being tolerated by its delusional patrons who deny the existence of the ubiquitous traffic congestion, inefficient mass transportation, impotent law enforcement, a price-tagged judicial system, feudal politicians, profit-rabid businessmen and let us not forget the most vile – the apathetic and/or ignorant majority who empowers the whole lot!
The "Master and Servant" role play is no longer an act but a RAPE CONDONED, PAID BY THE MAJORITY and is SUBJECTED to EVERYDAY!
"PH Society, be my Bitch!" says They!
And the willing victims bend over unfortunately, even those who aren't playing along get effed.