The most annoying sort of human beings of all are those who can't make up their minds. I'm a firm believer in the saying: Either dump your load or get off the can.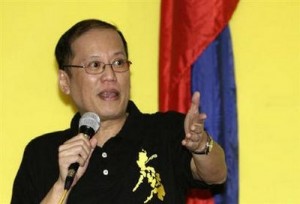 Philippine President Benigno Simeon 'BS' Aquino III has been playing games with Filipinos for months now. He's certainly earned the 'BS' in BS Aquino. And so, over the same period, both ordinary Filipinos on the street and the country's top opinion shapers alike have been asking:
Does BS Aquino want another term or not?
What follows is the President's dumbest (albeit astoundingly unsurprising) answer to that question so far:
"So if the vast majority [of the people] think this is the route that has to be taken, then there should be a way based on the Constitution to afford that opportunity."
Again he defers to "the people", his "bosses" supposedly.
There really couldn't be a more spineless position to take. Democracy may be premised on the notion that the "majority will" knows what's best for the nation. The trouble with President BS Aquino and the morons who follow him is that they've taken that notion a bit too far. Left to their devices, that "majority will" is no more than a dumb crowd — stampeding to wherever the cattle herders and their dogs prod them towards.
The more mature regard for "democratic" governance is where the will of the people ends (in elections, say), the minds of the elected leaders and representatives who are the products that institutionally-channeled will takes over.
In short, Filipinos elected President BS Aquino in 2010 to lead. If he wants to go for a second term, he shouldn't be issuing bullshit about him deferring to his "bosses". He should instead be issuing a clear vision and a coherent roadmap to assure his constituents that it is clear in his mind what he plans to do with a second term if he gets it.
For now, all he is telling Filipinos is (1) that he needs assurance that he is wanted for a second term, (2) that there may be a way to get that second term if it's been shown that he is wanted for it, and (3) that he will go to where the people want him to go.
That sort of girlie posturing is absolutely unbecoming of a president leading a nation of 100 million wretched souls. These sorts of personalities usually end up with a boot high up their ass.
If President BS Aquino wants a second term he should grow a couple and tell Filipinos why he believes they deserve a Third Aquino Presidency like a man — better yet, like a true statesman would. He should provide Filipinos with a clear plan on how he plans to spend those extra six years. He needs to assure Filipinos that he will not be the same spineless sniveling excuse of a president that he was over the last four years.
That's not too hard a challenge to step up to, is it? Then again, this is President BS Aquino we are talking about. Before he answers those questions, he may need to go on another one of those idiotic prayer retreats to consult his dead parents.
benign0 is the Webmaster of GetRealPhilippines.com.