Perhaps it is time members of Congress get dragged into the streets and sat before a panel of the people they "represent" and explain why they are entitled to their pork. The "debate" around why or why they shouldn't be entitled to a slush fund to dole out to their "constituents" has gotten crazy. Pork has long been recognised as the single biggest reason why Philippine politics is what it is today. Yet now that there is a clearer path to abolishing it as there never has been in the Philippines' entire history, Filipinos seem set to drop the ball.
Pork apologists are stepping up their campaign to retain this detestable practice. Some say that "not all pork is bad". This argument misses the fundamental point on all counts. A legislator's job as I had previously pointed out is to legislate. Beyond their job of evaluating and approving the General Appropriations Act every year they have no business funding and overseeing projects at an operational level. That is the job of executives. Executives execute. Legislator's legislate. Milk in your coffee, Coffeemate in your cereal and all that, capiche?
Another recent idiotic argument being fielded by pork apologists is that the end justifies the means, presumably because the means was undertaken "in good faith". One moronic tweet I stumbled upon the other day took that idiotic thinking to the extreme: "Details matter little to me now. How govt does it matters less than the result." To which I responded "Ret.Gen Jovito Palparan, meet ur new friend…"
I used to stop short of calling characters like these Yellowtards. Nowadays I feel an increasingly reduced need to restrain myself. To be fair to moi, if people can quite easily justify making idiotic remarks such as those above, that, in principle, gives me some license to justify calling people names, doesn't it?
Nonetheless, we should be the bigger personalities here and be a bit more circumspect when it comes to calling people names. Such people, after all, have lost the plot and have declared singular allegiances to people rather than ideas. We should look no further than the sad case of Mae "Juana Change" Paner for a case-in-point that highlights this. Paner is famous for both supporting then presidential candidate Benigno Simeon 'BS' Aquino III in 2009 and turning against her former idol in recent months. To be fair, that's quite a nice development. Better late than never. Unfortunately for Paner, she has become a an example of how not to engage in "activism".
True activists with real convictions apply sound principles rather than blind loyalty to people in their advocacies.
If there is any one passage in this article the reader should burn into her consciousness, the above one-liner should be it.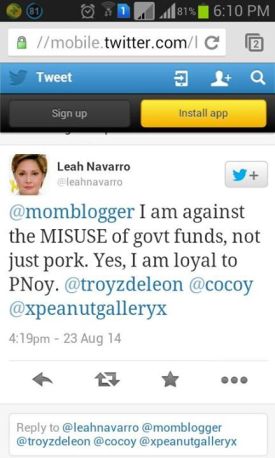 So pity the former celebrity known as Leah Navarro who recently fielded a tweet categorically expressing her loyalty to President BS Aquino. "Yes I am loyal to PNoy," Navarro asserts. That sort of thing may work now, as Paner thought back in 2009. It remains to be seen whether or not Navarro will learn any lessons in the future.
Huwag magsasalita nang patapos.
The sight of "activists" making statements of "loyalty" to specific people, normally raises alarm bells. This is because when people whose actions are motivated by such loyalties are no longer directed by deeper principles they are no longer open to debate. It'll be like having a discussion with a religious zealot or fundamentalist. The loyalty to the person or deity will always be the conversation-ender.
But the Philippines is not a normal society by any stretch of the imagination.
Ultimately with Yellowist Taliban like Navarro and her mob running around making loyalist assertions such as what we have seen thus far, President BS Aquino is the winner. The ultra-simplified ideas of demagogues and people-loyalists (as opposed to idea-loyalists) are often the most seductive to the lazy thinkers that make up 90 percent of the electorate in the Philippines. This is why members of Congress can afford to act with impunity and remain adamant about their entitlement to pork — because the deeper principles at stake consistently escape the stunted sensibilities of the majority of Filipinos.
Time to drag Senators and Congressmen out from their airconditioned offices and onto Manila's streets? Perhaps it's time.
[Thumbnail image of this artricle courtesy Metamorphosis of Articles.]
benign0 is the Webmaster of GetRealPhilippines.com.