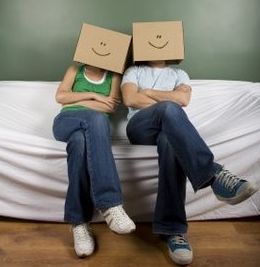 An alias, handle, callsign, pseudonym, blogger name – call it whatever you want. Choosing one is something that is more often than not taken for granted. You use it when you want to leave a comment on a blog, in forums, and especially when you want to start your own blog/forum.
Some netizens prefer to use their real name spelled out in full. Others use their real life nicknames, or truncate parts of theirs. Others prefer to use aliases totally unrelated to their name whatsoever. GRP's authors and commentators, as a mixed bag, are no different.
It's safe to assume that those who prefer to throw out their real names know very well the risks of doing so. I don't think any more or less of them, but personally, it's just not my cup of tea and something I wouldn't do as long as I have a choice. Obviously, I belong to the third group, those who use unrelated aliases. Because I don't give out any part of my real name, I am considered an anonymous blogger.
I blog anonymously for a few main reasons:
I like to compartmentalize – to me, my online identity and my real life identity are distinct, separate, and as much as possible, the two shall not intersect. It's just easier for me to manage both that way.
I want my audience to focus on what I have to say – and not on who I am. Without the name to distract them, I would like to think that people would be more focused on the idea I'm trying to put through.
Believe it or not, those of us who have chosen to blog anonymously actually have it harder, because, quite simply, we are forced to build our credibility primarily on the consistency and strength of whatever we publish.
As it turns out, however, Filipinos are not comfortable with staying on topic and keeping the discussion on the ideas presented. Especially when an idea is presented contrary to what they believe in, things become personal; they assume that cutting down the one who presented the opposing idea – in any way possible – will invalidate it. And to cut down that someone, they insist on "humanizing" things.
That, in a nutshell, describes the issue that Filipinos have with anonymous bloggers/commenters.
And so the question persists: why does "using your real name" equate to "valid argument" here in the Philippines?
When they can't defend their position anymore, they throw out what can be called loser's retorts.
"Stop being a coward and use your real name for a change."
Does me using my real name or not add to the logical soundness of my arguments? Oh, I almost forgot; Filipinos are obsessed with credentials. They have to judge first whether you're qualified to say something instead of evaluating what you actually said. It's in their nature.
"Bloggers who don't use their real names are not willing to stand up for what they say."
Excuse me, but there is this thing called intellectual honesty, which seems to be an alien concept to a lot of Filipinos. I wouldn't post something I didn't believe in or think was worth it; whether I post it using my real name or not is irrelevant.
"How are you going to take responsibility and accountability for what you say if you're anonymous?"
How I take responsibility and accountability for what I say is no one else's business. What Filipinos actually mean is they want someone real to physically or verbally take it out on when they can't accept the opposing point of view.
As I said before in one of my previous articles, Filipinos, using the need to "humanize" as an excuse, do not step up to raise the level of discourse. Instead, they drag it and dumb it down to the level of comfort in gossip and trivial matters that is all too familiar to them. Before they accept what you have to say, they have to accept you as a person first. As such, this unnecessary focus on personal details instead of on the ideas is what hampers intelligent debate on important issues here in the Philippines.
Instead of focusing on what is objective and readily available at face value, Filipinos prefer to focus on the subjective, speculative and unknowable. They would rather evaluate an argument by the motivation, intent, and even suitability of the one making it, than on the soundness of his/her arguments.
The other side of this exchange is that other Filipinos – both anonymous and not – have used the opportunity afforded by "hiding behind the computer" to project and propagate their baseless sense of self-importance, their arrogance, and their intolerance of opposing views onto others. And they drag the rest of us responsible netizens with them.
Indeed, the underlying issue here seems to be the intellectual bankruptcy that Filipinos have been stuck with for a long time. Couple that with a lack of ability to use their "freedom" responsibly, and the result – it will be this way for quite a while – is a self-destructive way of thinking. One that Filipinos have refused to change since time immemorial.
It's tough to forget the following words below because they ring true timelessly. Guess which group Filipinos belong to.
Small minds discuss people;
Mediocre minds discuss events;
Great minds discuss ideas.
А вы, друзья, как ни садитесь, все в музыканты не годитесь. – But you, my friends, however you sit, not all as musicians fit.