Vice President Jejomar Binay seems to be like President Benigno Aquino's frenemy as far as the Disbursement Acceleration Program is concerned. Essentially, Binay's position on DAP is that it is illegal and unconstitutional and ONLY President Aquino should be held liable for it, despite the fact that he himself P11 Billion in DAP.
I think that Binay's position on DAP is quite timely as the Supreme Court is expected to vote today on the constitutionality of the Disbursement Acceleration Program or DAP.
A news report on DAP previously stated that the Supreme Court tackled the DAP petitions on June 3 but rescheduled voting for after some of them asked for more time to decide. The report said that the Supreme Court is expected to make a ruling on the controversial case on July 1, today.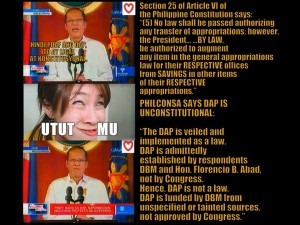 The nine petitions seeking to declare DAP as unconstitutional were filed last year.  The allegation was that the discretionary fund of the President violates the exclusive power of Congress to appropriate funds – just like in the Priority Development Assistance Fund, which was declared unconstitutional by the high court last year
On the sidelights, it seems Vice President Jejomar Binay seems to have broken ranks with the Aquino Administration over DAP by declaring support for the IBP's position on the controversial fund.
Binay also lauded the IBP for their efforts in "taking to task those who flout the Constitution" in the handling of government funds.

"With your filing of a petition before the Supreme Court assailing the constitutionality of the so-called 'Disbursement Acceleration Program', or DAP, the IBP has registered its strong position to be on the side of impartial accountability and genuine reform in governance," he said.

"Hopefully, our Supreme Court will soon rule on your petition and find merit in the same for the sake of a truly holistic resolution of the pork barrel scam," he added.
Thing is, this puts Binay in an odd position especially considering a statement made by Caloocan City Congressman Edgar Erice where he pointed out that the Vice President got P11 Billion in DAP:
Records from the Department of Budget and Management revealed that offices under the supervision of Vice President received a total of P11.45 billion in funds from the government's Disbursement Acceleration Program (DAP).

Of these, P100 million was allotted for the rehabilitation of the Iloilo River, P450 million for the residents of North Triangle in Quezon City, P500 million for Bureau of Fire Protection (BFP) housing, and a whopping P10 billion for the relocation of informal settlers from dangerous areas. These funds went to the National Housing Authority (NHA).

The 2011 DAP also provided the Home Guaranty Corp., an agency under Binay's Housing office, with a P400 million equity infusion for its credit insurance and mortgage guarantee operation.
Erice said, "Inakusahan pa nya ang burokrasya sa pagiging korap, eh kung sa tingin pala niya mali ang DAP, tinanggihan na sana niya ang P11 bilyon mula dito noon pa. Yan ang hirap kapag namamangka ka sa dalawang ilog. Hindi mo alam kung kakampi o kaaway ka." (Translation: "He (Binay) accused the bureaucracy of being corrupt, but if he thought that the DAP was mistake, he should have refused to accept the P11 Billion. You see, that's the problem when on 'paddles his canoe in two rivers'. You never know if they're an ally or an enemy."
Erice further pointed out: "This is double talk and can only be done by a 'master trapo.' How can you talk against DAP on one hand and collect from it on the other hand?"
Thing is, if Binay says DAP is illegal, then he'd be admitting to participating in something illegal.
Coming to the defense of Vice President Binay, UNA secretary general Tobias Tiangco first denied that Binay received DAP funds but later in his statement changed his tune and warned that the DAP might fly back in the faces of people in the Liberal Party — which could only happen if the OVP DID receive DAP.
"With DAP, they should think twice in directly pointing to agencies under HUDCC at baka lalong mapahiya at mabaon ang mga kakampi nila sa LP [or they will be embarrassed more and bury their allies in the Liberal Party]," Tiangco said. President Benigno Aquino 3rd heads the party.

He noted that various agencies under the Housing and Urban Development Coordinating Council (HUDCC) either have their own charters or are directly under the Office of the President

"If they say these agencies received DAP but it turns out these agencies are under the OP [Office of the President], then they are exposing not only their party mates but the President himself to embarrassment. They will only put the President in bad light on the DAP issue," Tobias said.
Tiangco's defense of Binay seems typical of their party's duplicitous position. On one hand, he's saying that Binay didn't receive DAP funds but on the other he admits that Binay received DAP funds but that it would be President Aquino who would be ultimately responsible!  With allies like that, who needs enemies?