So the highest court in the Philippines has now ruled, the Disbursement Acceleration Program (DAP) is deemed unconstitutional. It now needs to be dismantled, funds appropriated and disbursed within its framework accounted for, and its facilitators, brokers, and creators taken to task. It won't be surprising if, out of all this, all eyes will once again be on Department of Budget Management (DBM) Secretary Florencio 'Butch' Abad for starters.
Abad was apparently the architect of the DAP, a budgetary notion Inquirer columnist Conrado de Quiros described as "yet again another one of those lump-sum appropriations unheard of until he pulled it out of his hat."
Abad had seemingly pulled the DAP out of his hat to (in de Quiros's words) "precipitate growth" by way of funding Senators' "favorite infrastructure projects". The DAP was supposedly used to do this to the tune of P50 million on top of the conventional pork appropriations of each Senator in 2012. One will note that Senators Miriam Defensor-Santiago and Bongbong Marcos did not receive these allegedly DAP-funded appropriations. Both had voted in favour of former Chief Justice Renato Corona during his impeachment trial that year.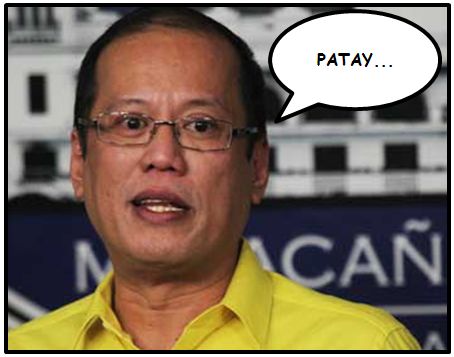 Indeed, that leads us further down the motive trail to you-know-who. Abad answers to no less than Philippine President Benigno Simeon 'BS' Aquino III. As such, by command responsibility, President BS Aquino himself is not just an accessory but an even higher-level conspirator than Abad. But that fact can be regarded as just an aside. President BS Aquino's possesses a strong motivational link to the existence of the DAP that makes the command responsibility angle to regarding his culpability to DAP thievery just a minor footnote in a case against him. He is a sworn enemy of former Chief Justice Renato Corona who, even as BS Aquino campaigned for the presidency from 2009-2010 was already in the Son-of-Heroes' crosshairs. Corona was at the top of Aquino's List of People to Crush When I Become President no less. And, it is now evident, he was prepared to pay handsomely to make it all happen.
It is now widely-believed that the DAP served as the Aquino administration's war chest to fund its saturation vendetta against former President Gloria Macapagal-Arroyo and her supposedly "midnight-appointed" Chief Justice as well as other officials that were legacies of her administration — a war chest of gold coins forged in the furnace of Aquino's profound annoyance over having to be sworn into the presidency by an appointee of his sworn enemy.
So there is a smoking gun, a gun dealer, hands with powder burn marks on them, and shell casings on the floor. All the auditors need to do now is account for all the slugs; that is, funds the appropriation of which is now clearly deemed illegal according to the SC ruling, specifically…
(1) cross border transfers of the savings of the Executive to augment appropriation of other offices outside the Executive;
(2) funding of projects, activities and programs that were not covered by any appropriation in the General Appropriations Act; and
(3) withdrawal of unobligated allotment from the implementing agencies and the declaration of the withdrawn, unobligated allotments and unreleased appropriations as savings prior to the end of the fiscal year and without complying with the statutory definition of savings contained in the GAA.
…and the circle of crime will be fully-drawn.
Filipinos have many times in the past allowed big appalling crimes against the state to go unpunished. This fact is evident in the composition of their Congress and the quality of their executive leadership from the top echelons in Malacanang all the way down to the lowliest mayors and municipal councilors. The irony here is that this government was supposed to be the one that would tread the 'straight-and-narrow path', what President BS Aquino himself called the Daang Matuwid.
It's time President walk the straight path now that the Supreme Court has ruled on a financial construct that was his alone to create. And he should walk with conviction — down the plank if necessary.
benign0 is the Webmaster of GetRealPhilippines.com.