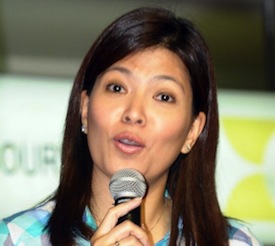 It's as if it weren't an infantile enough act that Lani Mercado, Cavite Representative and wife of imprisoned Senator Bong Revilla would announce her plans to spitefully skip attending the 28th July State of the Nation Address (SONA) of Philippine President Benigno Simeon 'BS' Aquino III on account of her fears that she and Revilla might be subject to a "shame campaign" on that occassion. No. Malacanang, of course, had to respond to it as well…
"It is a constitutionally mandated event and the President will deliver his State of the Nation Address regardless of reactions of some public officials who seemed to have been affected by the PDAF scam. That is a constitutional mandated event that the President is obligated to deliver," presidential spokesperson Edwin Lacierda said in a news conference.
Indeed. The Presidential Spokesman himself, no less.
Mercado for her part was referring to, among others, President BS Aquino's swipe — presumably at Revilla — reportedly made in a February speech before attendees of a Liberal Party convention in Cavite where he said "Huwag po tayong umasa sa tsamba o sa agimat o anting-anting," ("Don't pin your hopes on chance or on amulets or lucky charms"), alluding to the various mythical characters played by Revilla during his showbiz days. Earlier, Mercado had also criticised Aquino for being a "divisive" rather than an "inclusive" leader.
President BS Aquino makes no secret about his contempt for showbiz personalities. In his recent "Independence" Day speech he quipped that the nation does not need politicians who are only good at parroting scripts, and singing and dancing — something voters need to remember in the coming elections.
It seems President BS Aquino has forgotten the debt of gratitude he owes to an industry that has produced staunch loyalists like Jim Paredes and Leah Navarro.
You'd expect more, however, from the awesome might of one of the most bloated communication machines of any administration that has ruled the Philippines. To have to issue an official response to the quaint rants of a beleaguered former starlet is not very gentleman-like.
benign0 is the Webmaster of GetRealPhilippines.com.