With Senator Jinggoy Estrada now on his way to the slammer, it's two down, one to go. That's right, Filipinos are keeping score. With glee. They see the imprisonment of Estrada along with Senator Bong Revilla and soon, presumably, Senator Juan Ponce Enrile as vindication that, indeed, crime does not pay.
The three Senators are the first of what is hoped to be a series of high-profile arrests for offenses related to the vast decades-long institutionalised 'malversation' of pork barrel funds channeled through bogus non-government organisations (NGOs) associated with alleged mastermind Janet Lim Napoles. The whistleblowing and subsequent witchhunt is long overdue and unprecedented in scale as hundreds of millions of pesos in unaccounted-for funds have been identified as having been stolen.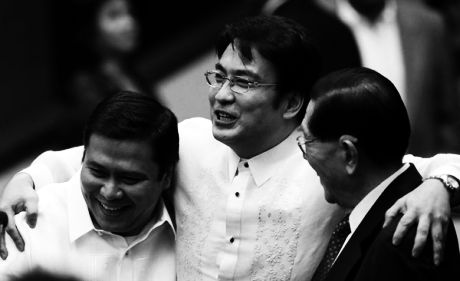 But this "scandal" (as if the Philippines hasn't been scandal embodied since 'independence') is but the tip of the proverbial iceberg. Add to what I mentioned earlier (that pork barrel thievery has been a decades-long Filipino tradition) the fact that Napoles is just one of what could be hundreds other conduits for stolen pork barrel funds. Lucky for the other pork barrel brokers, the Philippines' mainstream media and its clique of "activists" both online and offline have made Napoles the central figure in this circus all but distracting Filipinos from the bigger picture and further silhouetting all these other shady figures against the dazzle of Napoles's celebrity.
On that note, we now then revisit the old cliche again:
Does crime pay?
Answering that question now becomes a bit trickier knowing that there are still a lot of unknowns out there. We don't know, for example, how many more Napoleses are out there. We don't know how many more senators and House representatives are squirreling away their pork through other channels. Don't know how many NGOs "benefiting" from pork are in conflicts-of-interest-riddled relationships with their benefactors in government. Don't know exactly how culpable the Budget Secretary and, yes, even the President is in this whole mess. Don't know if even funds used legitimately are optimally spent.
In short;
We don't know how many people get away with crime vis-à-vis those who are caught or exposed.
So for us to be crowing out loud after seeing three measly senators behind bars that "crime does not pay" is likely to be a bit of a hasty conclusion. What percentage of all stolen pork does funds channeled through Napoles account for? That's an easy question to answer if a scientific bottom-up audit and investigation is mounted. But that is, of course, too hard. Why do it that way when a circus is more fun?
The Philippines after all is a country where banal criminality is a strong tradition. You see Filipinos of all social classes, creeds, and faiths routinely getting away with the pettiest to the most serious crimes everyday. To the average Filipino, laws are mere recommendations. This is why the biggest body of popularly-elected representatives, Phippine Congress, has been described as the world's biggest crime syndicate — because in a democracy, the quality of elected leaders reflect the character of the society they rule over.
Indeed, even if we manage to account for the exact figure for the vast sums of pork money stolen so far, I hazard a guess that even that figure will be dwarfed by the sum total of all the money lost to the overall scheme of Filipino criminality that has gone unpunished.
Taken from that perspective, it is easy to see why Filipinos are so fixated on the pork barrel drama — because a handful of senators behind bars serves as a personal vindication for the average Filipino who, himself, is crooked by nature in his own small petty ways. And that is why Filipinos are quick to judge. Nice guys do indeed finish last, specially in the Philippines which is home to an inherently unjust society.
[Photo courtesy AsianCorrespondent.com.]
benign0 is the Webmaster of GetRealPhilippines.com.