Now that former Senator and Philippine National Police Chief Panfilo 'Ping' Lacson is at the centre of the Napoles List revelation frenzy gripping the land, attention has been drawn to his sexual orientation.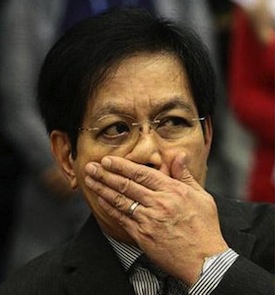 So a question as big as the question of the culpability of a bunch of legislators implicated in the pork barrel scam is making waves:
Is former Senator Ping Lacson gay?
Senator Miriam Defensor-Santiago (yes, she's in The List too) talks as if being gay is a bad thing…
"Anyone can make lists. I was told that there is a list [titled] "Closeted gays or bisexuals in public service." I was given names, and I was requested to say "Yes" or "No" on whether the person was truly in the list. When the name Pinky Lacson was called, I said 'yes,'" Santiago said.

"Anyway, there is an affidavit, although unsigned, circulating in Metro Manila that Pinky Lacson has asked for leave of absence from Malacañang. The highly confidential reason is that he is scheduled for a gender change operation in a remote clinic in the United States," she added.
This was something she reportedly said in apparent retaliation against Lacson for releasing a version of the Napoles List that included her name. "Anyway, for the nth time, I am not gay. No offense to all the gays in the world, but I do not intend to be one," Lacson reportedly said in response to that.
Lacson goes futher to up the ante…
"I hope she gets the Benhur list soon so she will get the biggest surprise of her adult life. I can only imagine how she will feel. It is like being slapped with ten kilos of pork," Lacson said.

"It's amazing how a crusading crook can pretend to be at the forefront of a fight against the pork barrel system with such an arsenal of hypocrisy," he added.
Interestingly, way back in February 2013, Santiago had already issued a stern warning to the former police chief that she has the goods on him…
"Maghanda ka. Dahil mayroon akong parliamentary immunity. Ibubulgar ko lahat ng kasalanan mo. Pati ang sexuality mo (Be ready. I have parliamentary immunity. I'll expose all your sins. And it will include your sexuality)," Santiago told Radyo Inquirer 990 AM on Wednesday.

"Tapos ikaw hindi ka na senador wala ka ng parliamentary immunity. Pag sumagot ka sa akin, idedemanda kita ng libel…(And you will have no more parliamentary immunity. If you answer back at me I'll sue you for libel)," she added.
Tsk tsk. All "honourable" senators elected by no less than the honourable Filipino electorate. Filipinos truly deserve their government.
For many, Lacson's sexual orientation is really a non-issue as far as the pork barrel scam is concerned. One commentor responding to a Fashion Pulis "poll" had this to say:
wala namang problema kung bading si ping. tanong ko lang, bakit nya kinakampihan si enrile, e totoo naman yung mga pinagsasabi ni alan cayetano at trillanes! me tinatanaw ba syang utang na loob ke enrile?
[Translation: "I really have no problem with Ping being gay. My question is more around why he had allied himself with [Senator Juan Ponce] Enrile, when allegations about Enrile made by [Senator] Alan Cayetano and [Senator] Antonio Trillanes are true. Does he [Ping] owe some kind of debt of gratitude to Enrile?"]
Going further back, Abante columnist Ellen Tordesillas in an August 2012 report highlighted a similar "demolition job" against Lacson at the height of a power struggle for the Department of Interior and Local Government at the time made vacant by the tragic untimely death of Secretary Jesse Robredo in a plane crash. "Natawa ako dahil binanggit niya ang isyu na bakla raw siya," wrote Tordesillas. She also quoted Lacson's reiterating his position on the matter of his sexual orientation…
Ito ang tungkol sa bakla isyu: "To some of my ­bashers who insist on insinuating, let me get this one thing straight – I am not gay and I do not intend to be one. No offense meant to all the gays in the world."
The rumour that Lacson is gay was apparently started by a certain C/Supt Reynaldo Berroya who used a photo taken in 1967 of then Philippine Military Academy (PMA) Cadet Lacson dressed as a woman in the traditional PMA "Frolics Night" show as "proof".
But in this PMA tradition, other cadets (many of whom are now prominent police and military generals) had also been ordered to dress as women to play female roles as part of the social event.
benign0 is the Webmaster of GetRealPhilippines.com.