Why are Filipinos not even good at sport? It seems like our athletes had been waved a red flag one day and then simply gave up on trying to achieve world-class status on all types of sport — I know, I know, aside from boxing, of course.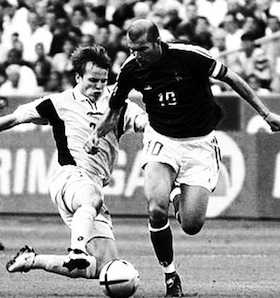 A sport is commonly defined as an organized, competitive, and skillful physical activity requiring commitment and fair play. It is governed by a set of rules or customs. There are too many words in that definition that do not apply to Filipinos really: "organized"; "competitive"; "skillful"; "fair play"; "commitment" and not to mention "set of rules". Whew! Those are big words indeed, all of which simply fly over the average Filipino's head.
I have always doubted other people's claim that sport can unite us as a people. The fact that we are not good at sport is a reflection of who we are as a people. We do not have the right amount of zeal and enthusiasm for it. Our lack of ability to excel in sport is just a reflection of our lack of passion for much of anything. Even as the world gets smaller because of globalization and international sport competition, we Filipinos fail to proudly join the leagues of other Asian nations in gaining some respect in this field. We often come home empty-handed from international competitions.
Manny Pacquiao put the Philippines on the map with his boxing skills. But not to belittle his achievements, it must be emphasized that boxing is actually an individual sport, and therefore his own individual achievement. It is not a team effort — like football, baseball or basketball — that requires team members to be organized and work in close collaboration with each other. And Manny is only one of a small few among 90 million people who excel — and he does so under the guidance of a foreign coach. Among the small few, we could count the Philippine Karatedo team among them. That team went home with three gold, two silver and one bronze medals on Sunday in the 6th Korea Open International Karatedo Championships 2010 held at the Gudeok Gymnasium in Busan, South Korea. But really, though they call themselves a "team", that's just another individual type of sport.
The Football International World Cup or FIFA World Cup was held in South Africa. This was the first World Cup hosted by an African nation. It was not a small feat considering the number of countries who vied for the chance to host the event. The World Cup is the world's most widely viewed sporting event in the world. There are 32 teams from all over the world competing for the title, the Philippines not included. This is actually a shame because the average Filipino's physical build is just right for this kind of sport. Our agility (if we remain fit) could work for us should we take football seriously. We are not too tall hence; we can run around fast without looking goofy or awkward. Why can't we excel in this sport though? Filipinos would much rather play basketball which requires that the player be taller than the average Filipino. Filipinos love playing it but we simply can't excel in it.
Unfortunately, the Philippine national football team, despite being one of the oldest national teams in Asia, has never had any significant success on the international stage and has never qualified for the AFC Asian Cup or the FIFA World Cup. According to recent history courtesy of Wikepedia, in September 2006 the country fell to 195th on the FIFA World Rankings, its lowest ever. By the end of the year, the Philippines moved back up to 171st overall, after qualifying for the 2007 ASEAN Football Championship with a 4–1 win over Brunei. However, their failure to advance from the preliminaries dropped the country's ranking to 179th. After a string of poor performances, the Philippines refused to register and enter the qualification stages for the 2010 FIFA World Cup. In short, we just simply gave up.
It was said that sport helped the former president of South Africa, Nelson Mandela sustain his spirits while in captivity for 27 years as a political prisoner. In 1995, as the president of South Africa, he handed the Rugby World Cup trophy to Francois Pienaar the captain of the victorious South African team . This single act united a nation divided and fractured by apartheid. I wish I could tell a similar story about the Philippines. For some reason, Manny Pacquaio's win does not inspire the rest of Filipinos to strive for unity or even excellence.
Although I am not actually a sport fan, I believe that sport indeed has the power to uplift and inspire individuals. Sport is cheap and should not really cost much to get into. If you have a ball for example, you can play a game of football in your backyard or front yard. This is what we often did when we were kids and it was a lot of fun. It is really puzzling why a lot of the men in our country would rather while away their time guzzling alcohol than learn a skill and get physically fit at the same time.
One of the Philippines favorite sport is basketball. We are not good at it though and I heard that lately, the Philippine Basketball Association (PBA) is steadily losing its fans for one reason or another. They say that the basketball team lack home grown talents hence, local fans are not really into the players. Some would say that there is a problem with the way the players play: they seem to have little passion for the game. There are also claims that some players are overweight and are not really fit to run around. The thing is, we are not really built for basketball, and the average Filipino is too short, so the association has to resort to drafting Fil-Am imports. I read somewhere that the PBA can be summarized as such: overrated players, mediocre performances and boring play. It is a sad situation that shows how our dysfunctional culture can also affect our fun and games.
Sport has a lot of enduring qualities. As former British Prime Minister Tony Blair once said, "It shows us how to participate in something that is bigger than ourselves, and teaches us how to demonstrate respect for teammates and opponents. It helps us to learn how to win with humility and lose with grace; how to set a goal and fulfill it. Sport brings people together; the self-worth and self-belief that it teaches are values that can last a lifetime." As I reflect on how sport can influence the progress in our country, one thing is for sure: we will not win any sporting event if we cannot learn all of the above principles. Without a deep appreciation of these principles, not even sport can unite us.
In life, things are not always what they seem.