Why would Heart Evangelista be "bad" for possible future Philippine President Chiz Escudero? Personally, I think it's about time the Philippines had a glamorous First Lady again. So you go girl! Good to read that you don't care about all this crap talk about you possibly weakening Chiz's bid for the top job!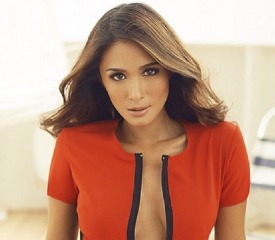 I mean, come on people. After the anti-telegenic BS Aquino presidency and its non-cool bachelor intrigas, it's about time a man who sports a normal regard for women lead the Filipino for a change. After all, as Senator Pia Cayetano asserted in one of those woman forums,
With women themselves purposely limiting their opportunities for advancement to conform with society's standards, Cayetano said it's time these stereotypes are challenged and addressed. It starts, she said, by raising gender-sensitive children.
Well, with the incumbent "bachelor" president like BS Aquino who uses mysterious liaisons with this and that girlette to create buzz around himself, maybe Madame Heart has the job as possible future First Lady cut out for her. She is, after all, a woman who seems to be the sort that fights for her man as she points out in her PEP interiew where she says, "People say that I will do bad for him. To be honest, I really don't care. What I really care about is what we have, and what we have is good. So, whatever the outcome of something good, I think it's also great. So, wala akong problema sa ganun. They can say whatever [they want to say]".
I believe our return to a possible president who is in the middle of a normal relationship with a woman will be good, specially considering Senator Cayetano now calls for Filipinos to raise "gender-sensitive children". Sure I'm all for that, although I'm not quite sure "gender sensitivity" is something that needs to be taught. Kids after all, when left to their devices, sort out gender issues among themselves. It's really the adults who teach their kids all that anti-social stuff like sexism and racism. So, yeah folks, raise "gender-sensitive" kids as Ms Pia recommends. And while you're at it, spare your kids your racist bias against dark-skinned people too and raise "race-sensitive" kids as well! Better yet, just be good examples and watch what you say about our dark-skinned compatriots who hail from the mountains.
I realize, though, I'm being a bit ironic here. After all, Heart Evangelista is pretty much a garden-variety female Pinoy celebrity — what with her fair skin, long straight shiny hair, and European nose; she's got the right genes to make it in Pinoy showbiz. Then again, I'll defer to the old saying: Whatever works.
Obviously, Filipinos adore the Heart Evangelista (and Sarah Geronimo, and Marian Rivera, and Anne Curtis, and Deniece Cornejo….ad infinitum) female archetypes. We will find that that fact is plain as day just by tuning in on Filipino television. For that matter, those strains of DNA get their lucky hosts the votes as well, right Senator Pia (and sidekick Risa Hontiveros)?
What can I say? It's not only "more fun" in the Philippines, it's more complicated here. We are told to be "gender-sensitive" and "race sensitive" when the visual evidence before us tells us we are anything but.
Sorry if I digress.
Back to topic, yeah, Heart Evangelista. In my book, the sort of First Lady the Philippines has been waiting for since 1986. Exciting!
Frustrated artist doing geek for a living.