One has to wonder exactly what Meralco's power suppliers are holding over the company's heads, because the nation's largest electricity distributor obviously really, really wants to collect that 73% increase in the generation charge that it tried to extract from its customers in December.
That rate increase, which added P4.15 to the already uncompetitively high generation charge of P5.67/KWh being passed on to Meralco's customers, was so patently ridiculous that even the Sereno-led Supreme Court – which has not exactly distinguished itself with sensitivity to issues of public welfare – could not ignore it, promptly issuing a 60-day temporary restraining order (since extended to 120 days, or until April 23) against Meralco's efforts to collect it.
The folks at Meralco, not exactly being the brightest crayons in the box, found themselves in hot water about two weeks ago when they were accused – accurately – by former left-wing Congressman-turned-utility watchdog Teddy Casiño of attempting to skirt the TRO by including the suspended amount on customer billing statements as an "Other Unpaid Bill/s" entry and including it in the "Total Amount Due". Casiño explained that while his bill explained the extra charge as "deferred pending resolution of the Supreme Court's TRO (temporary restraining order)", it took a phone call to the local Meralco Service Center to clarify that only the "Total Current Amount" should be paid; on other customers' bills, however (such as mine), the extra amount was included with no explanation whatsoever, and thus what Casiño claimed Meralco was hoping would happen was what happened in fact – thousands of customers were fooled into paying the excess charges. Casiño's accusations caught the attention of the Department of Trade and Industry, who summoned officials from both Meralco and its legal department – which is more familiar to the public under its other name, the Energy Regulatory Commission – to explain the unapproved billing format and ordered them to knock it the hell off; Meralco was further ordered to refund the customers (approximately 37,000 of them) who had overpaid some P58 million.
In attempting to smooth over the controversy, Meralco spokesman Joe Zaldarriaga explained that "there was really no intention to collect" the contested amount, and that "to avoid further confusion, [Meralco] has removed the deferred charges as an item in the March billing statement."
Okay, that's great. So what's this, then?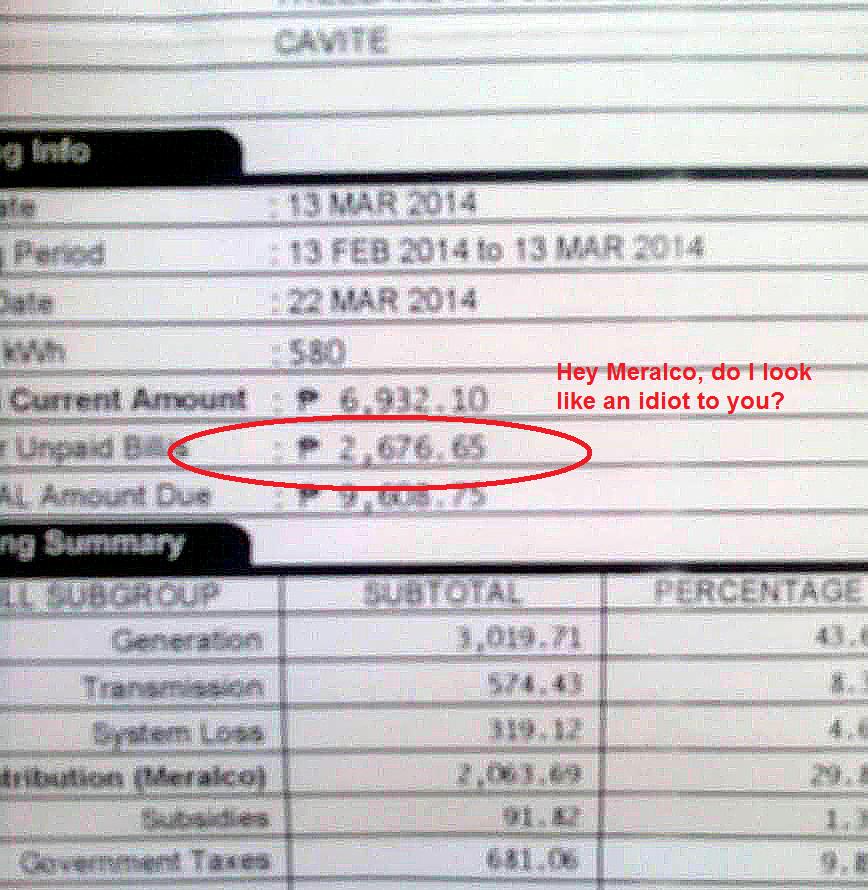 The meeting at the DTI took place on Thursday, February 27; I happen to know that, because that was the day I was scheduled to join several other columnists and the editorial staff of The Manila Times in what I'm sure would have been a very interesting roundtable discussion with Meralco CEO Oscar Reyes, the aforementioned spokesman Joe Zaldarriaga, and several other Meralco officials, had Meralco not hastily postponed it via text message that morning because "something came up." By the following Monday, the ERC had issued an order voiding the Wholesale Electricity Spot Market prices – Meralco's justification for the pillage-level rate increase –  for the months of November and December 2013; while that order didn't exactly completely eliminate Meralco's chances of eventually finding some way to extract their pound of flesh, one would think the company would be a little more circumspect about doing precisely the same thing that just got them in trouble, especially after issuing an official statement that they would not.
I'm not saying that Meralco was lying, but….Oh, wait, I am saying exactly that, actually. We are, after all, talking about Meralco, whose Mission Statement, loosely translated, is "We exist as a wealth-extraction vehicle for some Indonesian guy, so screw you."
I write a column for The Manila Times on Tuesdays, Thursdays, and Saturdays. Most of the energy sector and the heads of several government agencies probably wish I didn't.