Filipino butthurt again raged over an article titled "I would rather go hungry than eat Filipino food again," where a tourist described her experience trying various types of Filipino food. The tourist's opinions focused on some negative aspects (of course she would, she got sick), and that invited butthurt reactions from Filipino commenters. Many pointed out that the tourist was led to street food rather than proper Filipino restaurants. So the blogger was forced to change the title to "I would rather go hungry than eat Filipino STREET food again." Which I believe was a sad cop-out to the pressure from butthurt commenters (considering that not everything she consumed was street food).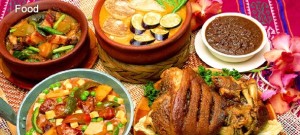 To quote Richard Gordon again, "The problem with Filipinos is we do not think; we just react."
The raging Filipinos basically say: "don't generalize us Filipinos because of our street food."
But it's futile to say that.
Because… what the title of this article says.
First, let's understand that this person comes from a developed country. What they usually throw out to the trash grinders, we Filipinos turn into skewered roasts, or part of a stew – isaw, soup number 5 or mata ng baka (eye of the cow), anyone?
Next, I believe the assessment of the blogger was accurate in some points.
The Filipino cuisine embraces all the common elements of Asian cuisine – sweet, salty, spicy and sour. Ingredients commonly used include garlic, vinegar and soy sauce, all of which are used in chicken adobo – easily one of the most recognisable Filipino dishes.
I'd say this is mostly true. Nothing derogatory here.
What shocked us the most was the poor quality of food. Most of dishes were left on the table without being covered with a lid, or without a fan to get rid of the flies, as it's a common practice in other Asian countries. Fish and meat were mixed up together in the same bowl, sausages were displayed on a plate surrounded by flies and bugs…
Go to most open markets, carinderias at the poor (squatter) areas or the talipapa, isn't this what you see?
4 days of stomachache, dizziness and feeling overtired and bloated….

and diarrhea.
I know fellow Filipinos who experienced this after eating at a certain carinderia. Also, don't we often get news of food poisoning, where a whole family died or something like that, every now and then?
Street food already tells a lot about our society, that we are a dysfunctional society. But it's not just the nature of the food. It's the conditions surrounding the food.
Firstly, some Filipino commenters on the article posit that the guides were probably hoodwinking the blogger. For example, the blogger did say that after asking about longganisa, they were given a hotdog sandwich from 7-11. OK, given that's the case…. Is that what Filipinos do when foreigners are around? They hoodwink people? Can't we have a matinong (decent) guide for these people? If we are going to have tourists, are we going to force them to have stomachaches, diarrhea and cholera? What's that, the classic fault of "naghahanap ng karamay" (looking for someone to share the suffering with)?" Think about it – when a tourist comes in, the first food they are likely to see is the street food. Is that what we want to show them?
Secondly, the condition of people preparing our street food and other food highlights our poverty. As fellow blogger Paul Farol quoted from a friend, poverty porn is one of the marketing ploys of our country. It's as if the country wants to highlight that it is poor – and wants to stay that way. Now food porn joins the mix. Food porn + poverty porn = food poverty porn (well, the blogger probably hasn't seen pagpag yet).
As the blogger said, the food we eat often has oil, sugar and salt – because they are cheap and easy to prepare. Go to restaurants where you have safer food – they cost an arm and a leg. Sometimes, even the carinderias you expect to be clean might have their own hidden risks.
Of course, people need to sell food to earn a living. But at times, because of their poverty and lack of education, or even because of hard-headedness they are unable to provide proper sanitation for their products. Not to mention the types of recipes are high in fat and other substances that increase our risk for cardiac disease and other such illnesses.
Make no mistake, I still like our food. I also eat some street food. But food safety is certainly at risk here in the Philippines. For example, tap water is undrinkable because the illegal tapping by squatter areas soils the water supply. I'm sure that there are other cases… like the donations by other countries during Yolanda getting rotten because of non-distribution (and reportedly still getting sold in markets?). In the end, it's just not the food itself. It's how the people around it behave.
I wonder…. is the blogger's observation one of the reasons for Filipino cuisine not being a big hit abroad, which some Filipinos lament?
Before reacting at another negative review of our food, it's better to think first from that person's point of view, and ask ourselves, it this what our food tells about us?
I believe, as my cohorts here do, that what Filipinos embrace as their culture is what actually pulls the country down. And those who seem to be anti-dictators, who may also believe themselves to be "heroes," are the real dictators.