Indeed, Lourd de Veyra "has a few things to say" to Vic Sotto. And he laid them all out in his open letter addressed to the star which was published on Spot.ph. My first impression about Lourd's open letter was that it was a very thoughtful lament on the wasted opportunity in the huge influence Vic Sotto wields as a top movie star and producer.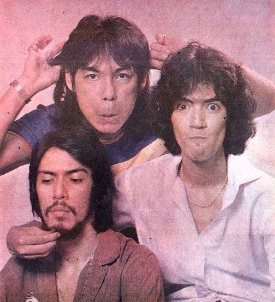 But then, having thought about it more, I've come to the conclusion that the Lourd missed the real point by a mile.
I think Vic Sotto and movies like My Little Bossings are just products of Philippine society. They exist because there is a strong demand for such kadiri quality. If Vic Sotto ever decides to dedicate the rest of his days to making good-quality matino movies, guess what, another moron will simply emerge from the woodwork and fill the void Sotto leaves and be laughing all the way to the bank while he is at it. Just because a powerful media star like Vic Sotto makes a good-quality movie does not mean that the demand for idiotic films will disappear. Another Vic Sotto will simply emerge and cater to the kababawan of the Pinoy audience.
So what am I saying? Well my point is, telling Vic Sotto and other media superstars like Kris Aquino and Sharon Cuneta to grow a conscience and stop murdering the brain cells of Filipino youths (while collecting their parents' hard-earned pesos) is a futile exercise. It's not even a chicken-and-egg thing as I think the issue of the ignoramousness of Filipino cinema patrons is a lot more deep-rooted than the rot that afflicts our country's media industry. Ours, after all, is a free market economy. We can only stand back and watch as suppliers compete to meet demand on a level playing field. Clearly, people like Vic Sotto are the winners on that field as of now — because they deliver the dumbest content to a market that rewards creators of the dumbest products with millions of pesos.
The only reasonable institution we can turn to with an expectation to police the media is the government. It is government's role, after all, to regulate private enterprise — to ensure (without being motivated by profit) that the overall well-being of the society is safeguarded. They do that in other industries. Government regulators make sure drugs are properly tested before they are sold to the public. They make sure banks are adequately capitalized and don't use underhanded ways of luring people into borrowing more money than they can afford to pay. They make sure food products sold in the country are safe to eat.
So it is reasonable to expect government to make sure movies produced by for-profit studios are not poisonous to Filipino minds.
Obviously, government fails in its duty to ensure that ours remains an intellectually-healthy society. The fact that movies like My Little Bossings rake in 50 million pesos is proof of this. Is there hope of getting the government to step up to this role? I wouldn't bet good money on such a hope. The government after all is made up of officials voted into office by the very same people who eat up media crap like My Little Bossings.
Talo, kung baga. You really can't win in a country where popularity is equated to what is right.
So, Mr Lourd de Veyra, the bottom line is that life's really too short to be wasting it on trying to get bozos like Vic Sotto to do good things. Sorry na lang tayong matatalino. And besides, you're a self-avowed fan of da Bossing. So it's all good. 😉
Frustrated artist doing geek for a living.