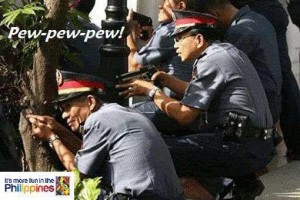 In a stunning move that even the Administration-friendly Inquirer couldn't help itself from calling an "irony of ironies", the Philippine National Police announced it had earmarked P21 million to contract a private security firm (still unnamed) to provide security services at Camp Crame, the PNP's national headquarters.
PNP Director Alan Purisima explained the move as a way to move more officers into patrol duties, and as a financial benefit, since the average private security guard earns less than the P18,000 a month typically paid to an officer with the bottom-of-the-totem-pole rank of Police Officer 1 (PO1).
The Inquirer article also includes this little gem, which is one of those jokes that writes itself:
"The idea of hiring private security guards to help protect Camp Crame was first broached in March 2008 by then PNP Director General Avelino Razon Jr.

Razon had said the project to hire private guards was part of the PNP's anticriminality program by boosting police presence in the streets.

Razon is now detained at the PNP Custodial Center in connection with graft charges."
What is truly mind-boggling about this latest brain wave from the country's law enforcement establishment (following such genius solutions as restricting the sale of hammers and banning the wearing of caps or sunglasses inside Metro Manila malls) is how oblivious it is to the PNP's – and by extension, the Philippines on the whole – image. Fairly or not, the country has a reputation both within and without of being a lawless place, and an admittance that the 150,000-strong national police force is incapable of effectively using its own resources to secure its own headquarters does absolutely nothing to dispel public safety concerns.
Of course, this is the same PNP that has to ceremonially seal the barrels of its officers' guns every holiday season to prevent them from acting like three-year-olds on New Year's Eve, and has reported at least two theft incidents inside Camp Crame itself in the past couple of weeks, so manning the defenses with minimum-wage rent-a-cops armed with rusty .38 revolvers might actually be a step up.
I write a column for The Manila Times on Tuesdays, Thursdays, and Saturdays. Most of the energy sector and the heads of several government agencies probably wish I didn't.