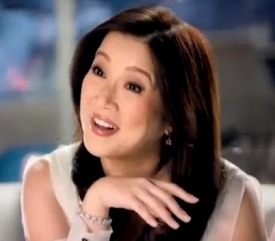 Hmmm… maybe we should all be happy for Kris Aquino's most recent epiphany, don't you think? After all, sex has been so made out to be such a big deal that many of us have all but lost the plot when it comes to our sexuality. According to Kris, she now believes that her "not having sex" has allowed her to gain a clearer view of what her true priorities are and that her new-found celibacy could possibly be a factor contributing to the success of her recent movie My Little Bossings which stars her son James "Bimby" Yap Jr.
"Kasi siguro mabait ako, kasi siguro celibate ako, sorry I have to say, let's be honest. … I'm just saying na siguro parang alam ko kung ano ang priorities in life ko and siguro talaga kung ano ang pinakamahalaga sa iyo, 'yun ang ipagkakaloob sa iyo ng Diyos at ang pinakamahalaga sa akin ay 'yung dalawang anak ko," Aquino continued.
[Translated: "Maybe it's because I'm such a nice person, and because I'm celibate sorry to say. Let's be honest. I'm just saying that perhaps I now know what my real priorities in life are, and I guess it is really the things that are most important to you that God will bless you with. And the most important things to me are my two children." (translation added by Editor)]
All good in my book. The only regrettable thing about this stroke of genius on Kris's part is that it did not come to her before scumbags like Phillip Salvador (who fathered her other son Joshua while he remained married) and Joey Marquez (who allegedly infected her with a sexually-tranmsitted disease) came into her life. Well better late than never, I guess.
I find it interesting that Kris would virtually single out sex as playing such a pivotal part in her life. It sort of implies that she regarded sex as a personal demon. I guess the story of her life clearly makes this quite evident. I mean to be involved with Phillip who is married to begin with and who starred in the 1989 film Orapronobis which was critical of her mother's administration, then Joey who deposited some viral souvenirs on her then turned violent sort of indicates that much of the thinking that goes on in Kris does not happen in her head.
Kris suffers, it seems, from a "poor little rich girl" syndrome. Having to be surrounded by so many hangers on and handlers, it's likely she does not get information and advise from a diverse enough set of people. And by the looks of it, Kris seems to be reliant on external validation to keep her ticking along (which I guess is why she is such an open book to the media). Combine that personality with a small clique of friends and their inbred ideas and you get the train wreck that is Kris Aquino's life (that is, if you discount her financial success).
Just as well, I suppose. You really can't be a future president of the Philippines if you are a slave to your libido. 😉 Then again, a robust presidential libido is not really regarded by her brother President Noynoy Aquino as much of an issue.
But seriously, let's cheer on Kris and the opening of a new chapter in her life as the Re-Virgined Queen of Philippine Showbiz. I mean, while I don't really agree that "not having sex" is necessarily a good thing, perhaps it's high time Kris focus on what she rightly cited as the more important things in life instead of finding her next man.
Frustrated artist doing geek for a living.