I hear a lot of talk about impeaching President Noynoy Aquino. Well, it's not really surprising considering all the badness of his administration being highlighted lately. I mean, here's a guy who promised the sky back in 2010 and all we get four years down the track is a yellow shirt and a bunch of fail marks in his report card:
Handling of the 2010 Mendoza bus massacre: FAIL
Ampatuan Massacre resolution: FAIL
Handling of the Sabah crisis: FAIL
Bangsamoro Framework Agreement: FAIL
Holding to account of erring minions: FAIL
Freedom of Information stuff: FAIL
Zamboanga Crisis: FAIL
Typhoon Haiyan disaster response and long-term recovery effort: FAIL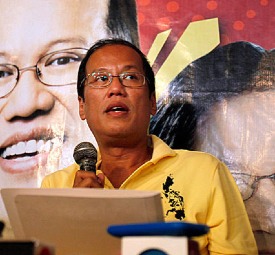 You probably get the point, though I believe this is all just the tip of the iceberg and I'm sure the commenters in this fine site will be more than happy to complete the list. One thing I can add in a bit more detail is that the whole farce that was the trumpeting of the Philippine economy as the hottest in Asia (the crown jewel in BS Aquino's propaganda crown) has now been deflated as well. That's what you get when you try to use a hot equities market to conclude that the economy is healthy. That is one fail that is totally inexcusable.
Going back to the talk of impeaching President BS Aquino, well, as they say, impeachment is a political act. So while I agree with legal experts that the president's schmoozing with what were then called "senator-judges" in 2012 to convince them to convict former Chief Justice Renato Corona may not likely be an impeachable offense, thing is impeaching a politician is really up to the popularity of the initiative. BS Aquino's best tactic at the time was to turn public opinion against Corona. And with the "cooperation" of his lapdog media outlets, the Inquirer and of course ABS-CBN, it was a cinch. The exercise was more political than legal despite all efforts (robed "judges" and all, jeez) to make it look like a lawyerly affair. Great for TV, bad for the thinking ethic we all wish the Philippines would grow someday.
As such, an initiative to impeach BS Aquino will not fly. For one thing, the calls to impeach him seem to be coming mainly from a bunch of communist groups and party lists. No thanks. I'd take BS Aquino over commies anytime. If you think about it, the Pinoy masa will probably benefit more from a communist regime than a democratic/capitalist one — because under a communist regime, everything (in theory) will be distributed evenly regardless of hard or how little one works. And under the totalitarian government communism requires, people don't need to think. That's a perfect environment for the average Pinoy who spends his days waiting for the proverbial guava to fall off the tree.
Instead, however, Filipinos chose capitalism and "democracy" and, yes, elected BS Aquino to be their president.
For the first two, I am thankful. Capitalism (and the democracy that entails it) suits those of us who work hard and smart really well, because in a capitalist society, the smart and hard-working are rewarded well. Perhaps the fact that there are so few rich people and so many poor people in a capitalist country like the Philippines says something about the character of its people. But that's altogether another discussion most GRP followers will no doubt be familiar with by now.
As for BS Aquino being chosen president by Filipinos? On one hand, I'd say, he's an epic national cringe of unprecedented proportions. But then, when I stop to think about it, he hasn't really impacted my way of life or that of my immediate circle of family and friends. In short, he really hasn't changed much. And for us who enjoy the fruits of the status quo, well, all I can say is tough luck to those who supposedly "yearned" for this change BS Aquino promised back in 2010. And that is why I think BS Aquino shouldn't be impeached. Filipinos deserve two and a half more years of his presidency. They elected him after all. Deal with it.
Frustrated artist doing geek for a living.