My friends and readers know that I have absolutely no love lost when it comes to the Aquino Administration, but I'll throw this administration a bone and say that  some people may have pretty much lost the plot with regard to the Pork Barrel Scam.
Given that it was actually infighting springing from greed and betrayal within a gang of thieves that created this whole mess, the Pork Barrel Scam produced some good as it may have disrupted a pretty lucrative scheme that has worked for an extensive network of "operators", bureaucrats, and politicians for quite some time.
Finally, the Aquino Administration has stumbled upon a situation that could have provided it a great number of opportunities to make good on its claim that corruption causes poverty ("walang mahirap kung walang corrupt") by filing cases and prosecuting legislators and their associates who abused their pork barrel funds and got rich from it.
For instance, if farmers had received skills training or low cost farm inputs (fertilizers) that were supposed to have been funded by a senator or congressman's PDAF, perhaps they could have increased their incomes and found a way to use that income to create even more sources of income.  But of course, that's assuming that the poverty of Philippine farmers can be attributed solely to the lack of skills training or the high cost of farm inputs.
Being the one solely in charge of implementing the laws and policies of the country, the Executive Branch headed by President Benigno S. Aquino III could have wielded all of its resources to bring erring legislators to justice and come out somewhat vindicated from all the criticisms — fair or unfair — that has been lobbed at it since Day One.
It could have been "fortunate" in that respect, but fortune favors the well prepared — which is not something we can say for the current administration.
"Could. Have."  Those two words almost always precede a round of recrimination and copious amounts of Monday morning quarter-backing.  But what's the use of engaging in that, really?  We already know that this administration can't seem to do anything right at all and if all we're going to do is to keep harping on its mistakes, we're probably not going to improve the situation unless we also articulate as well as implement remedies and solutions — which, if you will believe me, is not necessarily charter change.
The thing is, Senator Ramon Bongrevilla's speech was really all about recriminating the administration in a bid, maybe, (1) to cover up for the grave abuses he is accused of by making it seem that his accuser committed even graver abuses and (2) to play up or sympathize if not somewhat patronize the addle minded detractors of the Aquino Administration.
(And yes, folks, I hate to admit it but there are anti-noytards as there are noytards and I'd probably derive a lot of pleasure in watching them go for each other's throats in the middle of EDSA.  I'd probably root for anti-noytards though.)
I probably won't be able to emphasize enough just how cringe worthy Senator Bongrevilla had executed his defense tactic.   Essentially, the senator tried to defend himself by pointing out the faults of his accusers — which would be good if it had bearing on the accusations he is facing.
The only parts of his speech that had some relevance to the accusations he faced were the parts where he pointed out that his signatures could have been forged and his denial that Richard Cambe was his chief of staff.  However, I have an impression that Bongrevilla's citing of the"false in one, false in all" principle is not a steel-clad defense and probably will not prosper in a way that will completely absolve him.
Transcribed Excerpts of Privilege Speech in Senate.
ON SIGNATURES/BEN HUR LUY

5:10
Sabi nila yan daw po ang aking pirma. Eto pa po Mr. President, tingnan nyo pirma ko rin daw yan. I'll show you another signature. Sinasabi nila na kinonfirm ko daw yang mga pirmang yan. At yung iba pa, common sense lang po Mr President.

I did not confirm anything. So madam COA, malinaw pa sa sikat ng araw na ibat iba yang mga pirma na yan?

Hindi ko po pirma ang mga nasa dokumento na sinasabi ng mga ito na ebidensya laban sa akin

Ngunit patuloy pa rin nila akong pinagmamalupitan, Mr. President.

Paulit ulit hong sinabi ni benhur luy sa hearing na siya ang pumeke ng pirma sa lahat ng mga dokumento. Ang mga kasamahan pa nga niya mismo ang nagsabing magaling at expert syang pumeke ng mga pirma.
Panoorin po natin ito. (Video of  Benhur Luy is played.)

Samakatuwid, eto palang si Benhur Luy ay si Boy Pirma, Ginoong Pangulo.

Kung ang mismong DBM nga may boy Xerox na namemeke ng mga SARO, bakit napakahirap paniwalaan na dito sa PDAF ay mayron namang boy pirma na namemeke ng pirma sa mga dokumento.

Bakit pag lilitisin ang tauhan nila sa dbm "not guilty without thinking", pero pag kalaban nila, "No way!"

Oh no Mr. President, that's very a…abad!

Sa halip na kasuhan dahil sa pa gaming pineke nila ang mga pirma ng mga mambabatas mas pinili nilang gawin itong testigo laban sa kung sino sino.

Para lamang mabuo ang kanilang planong wasakin ang inyong lingkod at mga taong sa tingin nila ay magiging tinik sa lalamunan nila sa 2016.

Agad agad nilang ginawang state witness ang mga umamin ng criminal hindi po bat sa normal na proseso, ang korte lang ang may kapangyarihan na magsabi kung sino ang hindi most guilty? At pwedeng gawing state witness?

Hindi po bat mangyayari lamang ito matapos silang maidemanda bilang mga akusado sa krimen na kanilang kinasasangkutan? Pero ano? Ano ang ginawa nila?

Ora orada nilang ginawang state witness itong mga jukebox king and queen na si Boy Pirma at ang kanyang mga alipores kahit ano ay kanilang kinakanta ayon sa kagustuhan ng naghulog ng pera kapalit ang pangakong hindi sila makakasuhan.

Balikan ko lang ang mga akusasyon na ibinulsa ko raw na mga kumisyon mula sa PDAF.  Ayon kay Benhur Luy ibinigay ko raw sa aking chief of staff at chief political officer na si Atty. Richard Cambe ang pera at upang maging kapani paniwala ang kanilang alegasyon nagbigay pa sila ng petsa kung kailan at kung saan daw binigay ng whistleblowers ang pera.

Sa biglang tingin iisipin mong totoo ang bintang pero sa katotohanan papakasinungaling talaga nila.

10:36

For the record Mr President kailanman mula noon hanggang ngayon hindi ko naging chief of staff o chief political officer si Atty. Richard Cambe.

Get your facts straight.

Sabi ni Benhur Luy tiyak siya sa listahan na ginawa nya.  Yabang pa nya sigurado sya sa mga petsang nakalista doon.

Mr. President kung humahaba lang ang ilong nitong si Benhur Luy habang nagsisinungaling sya malamang umabot na ang kanyang ilong mula dito sa senado hanggang Malacanang.

Mr. President Paano nya maibibigay ang pera kay Richard Cambe kung wala naman itong tao sa Pilipinas sa petsa at araw na nakalista sa kanyang ledger?

Sa mismong mga pictures na ito (showing)

Sa kanyang passports at sa mga record ng PAL ay ipinakikita na wala sa Pilipinas si Atty. Richard Cambe na sinasabi nilang inabutan ng pera nga mga petsang yon.

(showing manila-los angeles (lax) flights
(Manila to lax – May 6, 2008)
(Lax to manila – May 27, 2008)

Mr. President, falsus in uno, Falsus in omnibus. False in one, False in all. Sinungaling sa isa, sinungaling sa lahat.

(End of excerpt)
I have a hunch that, for the purpose of his privilege speech which largely cast himself as a victim, Bongrevilla may have resorted to cherry picking from what is claimed to be a truck full of evidence against him.
On a side note, what amused me about Bongrevilla bringing out a toy truck loaded with a stack of documents is that he took an obvious idiomatic expression literally.  Of course, he intended to mock his accusers, but I think it would have worked if he had been known to have the intellect of his co-accused Senator Juan Ponce Enrile.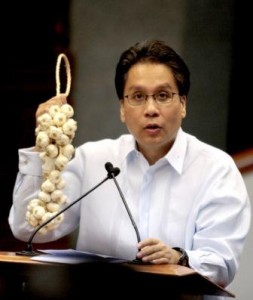 In the end, it appeared to be just one of those weird things that happen in the senate.  It's right up there with Mar Roxas' wearing a garland of garlic to protest a bid for charter change through a constitutional assembly or con-ass which he called 'con-asswang" — the joke being, as it were, that garlic fends of ghouls or aswang.
I understand the need for "visual aids" to emphasize a point and the need to use vivid "imagery" in speeches, but, I think our politicians should try to be a little less outlandish in this regard.
Hell! I'm still wondering if three poor kids REALLY floated bangkang papel or paper boats where they wrote their wishes on the Pasig River in the hopes that it would reach Gloria Macapagal Arroyo in Malacanang!
But garlic, toy trucks, and paper boats aside, Bongrevilla's claim that his signatures were forged by Benhur Luy may be disregarded as other documents relating to PDAF transaction with his signature have surfaced.  For instance, a report from the Philippine Daily Inquirer says that Bongrevilla wrote a letter to COA acknowledging the release of his funds to NGOs.
Revilla made the admission in a July 8, 2011, letter to Assistant Commissioner Arcadio B. Cuenco Jr., a copy of which was obtained by the Inquirer. The letter debunks his claim that his signature and those of his representatives were forged—his main defense after the pork barrel scam was exposed in July last year and he was implicated in the alleged racket.

"After going through these documents and initial examination, it appears that the signatures and/or my initials on these documents are my signatures or that of my authorized representatives," Revilla said in his letter.

The letter was part of the special audit conducted by the COA on the congressional Priority Development Assistance Fund (PDAF) releases from 2007 to 2009 during which P503.69 million of Revilla's pork barrel allegedly went to dubious nongovernment organizations (NGOs).

Source: http://newsinfo.inquirer.net/566179/revilla-letter-to-coa-belies-forgery-claim#ixzz2rBtM0meN
I am not a lawyer and make no claims of being an expert in law, but I think that even if Bongrevilla manages to keep his accusers from using those documents against him, he'd still have to find a way to make sure his financial records don't show patterns of movements that correspond to the flow of money to the NGOs he endorsed.
With tens of millions or hundreds of millions flowing, there is bound to be a document or a bunch of documents that'll nail him or his relations and associates if he really did pilfer from his pork barrel funds.
What really got to me is that in his 50 minute speech, never once did he mention and explain the transactions involving his son Leonard Bryan Bautista, James Christopher Napoles, and Ronald Lim Jr.  Apparently, Bongrevilla's son co-owns a business with Janet Lim Napoles' son (James Christopher) and nephew (Ronald) which is into selling imported shoes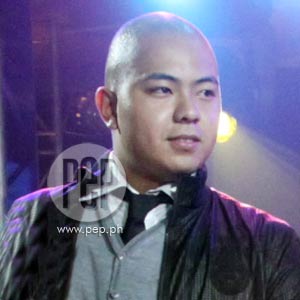 In an article on PEP.PH, it is claimed that Bongrevilla defended his son but apart from a bare denial, nothing much is really said about the son's business nor did it present records of its financial transactions to prove that his business was really legitimate and not a money laundering operation.  If it were legitimate, it would be easy to prove with ordinary business documents (receipts, tax records, etcetera) and this is something, perhaps, the BIR could look into by auditing the company.
In his speech, Bongrevilla appealed to his accusers to leave his family alone… which to my ears sounds like, "Don't look there!"