And when we say the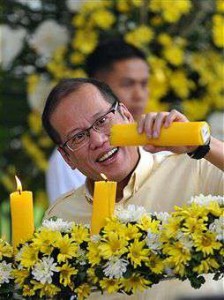 Philippines, we don't mean just the government; we mean to include the Filipino people who voted those incompetent officials in, like for example, president Benigno Simeon "BS" Aquino III.
From the start of his term, it has been painfully obvious that BS Aquino's presidency was heavily anchored on popularity. Thus, a lot of effort was put in to make sure his approval ratings stayed up (allegedly, of course), and to keep driving home the image of his being incorruptible and the antithesis of everything his allegedly EVIL predecessor was.
There are, however, three very big roadblocks that the Communications Group (some say Miscommunications) will forever keep encountering in maintaining his "Mr. Clean" image:
1) When the President is selective of whom he considers corrupt, and when he either does nothing about corruption or is powerless to stop it, the significance of his own personal incorruptibility shrinks, if not goes out the window entirely;
2) Incompetence overshadows incorruptibility any day of the week (twice on Sunday, I'm told), and;
3) By now, BS Aquino should already have been able to stand on his own two feet, because it's been three (3) years (almost four, really) into his term, yet he still keeps blaming others for things that his government should have been able to prepare for.
In the context of super typhoon Yolanda, the people were expecting his government to have learned its lesson, given from the start how he had claimed with conviction that the Philippines is ready to face her.
What happened afterwards proved otherwise.
The takeaways from BS Aquino's interview with CNN's Christiane Amanpour were essentially these: (my commentary italicized)
1) He quibbled about the number of reported dead, ("10,000 I think is too much"), attributed that estimate to "emotional trauma", and insisted on 2,000-2,500 which at that time had the singular basis of not making him look so bad.
2) "The government's response has been reassuring to the people" – obviously not considering how many days it took for certain areas to receive aid.
3) He stuck to his guns in blaming Tacloban officials for the lack of response.
4) To paraphrase BS Aquino, there has to be a sense of moral responsibility on the part of developed countries with regards to climate change. – How about the Philippines, hmm?
5) Amanpour put him on the spot – how his government responds to this crisis will define his presidency, she said. What did he say? Basically, we did our part, and compared to Leyte, the other provinces did not suffer too many casualties, so he thinks they did pretty well. Once again, BS Aquino singled out Leyte as having only themselves to blame, and it seems he didn't consider that Leyte's vulnerability might have caused it to be hit hard no matter how much preparation was made.
6) His answers to Amanpour's questions were vague.
7) Overall, BS Aquino seemed detached from reality, in his own bubble of "everything's fine".
As some columnists like Jojo Robles and the site Spin Busters have commented, BS Aquino's incompetence has gone global.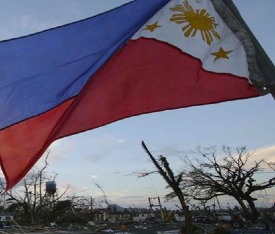 One of CNN's ground reporters, Anderson Cooper, had reported a "miserable" situation five (5) days after the storm hit. He commented that one would expect a feeding center to be established where he was (the Tacloban airport) five (5) days into the crisis, but there wasn't any. Furthermore, at that time, he didn't see a large-scale operation, though the presence of rescuers such as the armed forces was acknowledged. As to who was in charge of the Philippine side of things, he said it wasn't really clear.
Among what he said, guess what irked a lot of Filipinos? To them, he had the gall to compare the relief efforts here to those being staged in Japan when the tsunami hit. According to him, one or two days after the event, Japanese forces had already been on the ground carving up cities into grids and looking for bodies and survivors amid the wreckage.
Cooper was of course, careful not to mention the words "Philippine government" in his report. What he did say was that "there is no real evidence of organized recovery or relief". Unfortunately, he wasn't careful enough, because Korina Sanchez, who happens to be the wife of Department of Interior and Local Government Secretary Mar Roxas, had called him out to essentially say "WTF is he talking about?" Apparently she felt that Cooper was insinuating that the Philippine government was not doing its job (supposedly, Mar had been directing traffic at that time). His response?
"Accuracy is what we care most about at CNN, giving information that might actually help people on the ground and help the relief effort in some way become more efficient."

"It seems in the Philippines, it becomes something about a political issue at times…"

"I've seen the work that's being done and the work that isn't being done."

"Ms. Sanchez is welcome to go there and I would urge her to go there. I don't know if she has, but her husband as interior minister, I'm sure he could arrange a flight."

"In every report we have shown how strong the Filipino people are."
So now, it has become obvious to the world that Korina's reporting is hobbled by conflict of interest. What is the expression? She's "way out of her league."
And to mark CNN's strike three (if you're a BS Aquino apologist), Andrew Stevens conducted an interview with Mar Roxas, where Mar essentially allowed the world to see how he and perhaps other Philippine government officials work under pressure.
"We had set aside gallons of water, it just turns out that the need is that of a swimming pool."

"Nothing's fast enough in a situation like this."

"If this was a gun, all bullets are being deployed. If this was a fire hose, all hoses are being deployed."

"In our framework, the local government unit is the first responder." – comment: but it was wiped out, Mar, don't you get it?

"Let me just correct that, they're not the same bodies."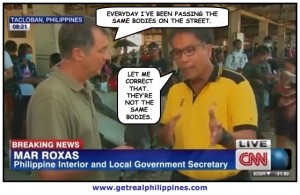 As Ilda pointed out in her own article:
"Andrew Stevens appeared frustrated over not getting an accurate assessment of the relief and rescue efforts from Roxas considering they were both in the disaster zone. It was as if they were both seeing the same thing – chaos, survivors begging for food and water and dead bodies lying around – except that the DILG secretary still insisted that the situation was under control."
…
Towards the end of Stevens' interview, Roxas made an appeal to the international community and gave a list of supplies he would prefer that donors send to the Philippines like tents and generators. This prompted the interviewer to ask "are you saying that the international community has not responded as generously as they need to?" to which Roxas quickly replied by saying that he is just trying to match the help that's coming in with what he's seeing in the ground as the need. It was akin to saying "thanks for the tea towels but what I really wanted was the new Ipad mini".
…
Roxas's general disposition towards the CNN correspondent and some Filipinos' aversion to foreigner's critical analysis makes one conclude that when it comes to foreign donations in times of crises, Filipinos are welcoming; but when it comes to foreign criticism of the country's shortfalls, some Filipinos quickly give the middle finger.
Oh, in case anybody is thinking that CNN is picking on us, BBC and other foreign news outlets as well have criticized the Aquino government's aid response.
On social media, many Filipinos accused CNN and other international media outlets of trying to make the Philippines and its government look bad, and using the typhoon coverage to boost their ratings. In addition, they accuse these outlets also of collusion with the opposition to put BS Aquino's government to shame.
What is the basis for such accusations? Do Filipinos assume that because Filipino media is blatantly partisan and often does politically-charged reporting then international media does it too, especially in crisis situation coverage?
Is that why BS Aquino called for media to accurately report the Yolanda disaster? When in fact what he wants is the media to make him look good despite all the documented evidence to the contrary?
The Philippines doesn't need foreign media's help to look bad; they're pretty good at doing it all by themselves.
The point that Filipinos miss, once again, is that their government, and by extension the people, is more concerned with looking like as if they're doing something, more than they are actually doing something. Filipinos fell for the bullshit rhetoric BS Aquino's propaganda machine cooked up in the previous elections, now they sow what they reap.
Filipinos have an inherent flaw in their psyche wherein they need to see their officials in the field in order to consider them as being productive. What isn't as highly valued here, however, is the thinking process, the strategic planning, and the large-scale organization effort that is required and most certainly recommended to be present every time a natural calamity, or any other crisis situation like it, hits.
Comparisons with other countries' response to crisis situations, though invidious as they may seem, are inevitable. Filipinos have so long wanted their country to be regarded as a great one, yet they do not seem to be supporting that want or desire with the effort towards that singular goal in mind.
The criticism that the Filipino government has been getting from their citizens and from international observers is all, I believe, in good faith because they want the country to improve. Obviously, Filipinos, especially government officials, have never been good at taking criticism. Instead of taking it in stride, they make every possible excuse to explain their action. They claim that it doesn't help; what I think though is that they don't know how to use it such that it will help. They lash out at the critic by attacking his/her person. They divert the discussion to his/her personal circumstances even though it has absolutely nothing to do with the topic at hand.
BS Aquino's government and its supporters are assuring us that they are exerting their best effort. I don't know how much more they can be given the benefit of the doubt on that; the longer the relief operations go without direction from them the more people die. The results will speak for themselves. As the line from "The Rock" goes: "Losers always whine about their best. The winners go home and f*ck the prom queen."
Oh, that bit about our being compared to Japan is unfair? Filipinos insist that we don't have as much resources, and that we are "just a Third World country". Uhm, the Philippines has A LOT of resources; it has a lot of manpower, and it has, or used to have, a lot of natural resources too. What happened was that Filipinos squandered it all, and built their society up in an unsustainable manner.
If the Philippines keeps thinking that "it's just a Third World country", then perhaps it's forever doomed to REMAIN a Third World country. If that's the image Filipinos want to keep presenting to the world, then no force on earth, natural or man-made, can stop them from doing so.
А вы, друзья, как ни садитесь, все в музыканты не годитесь. – But you, my friends, however you sit, not all as musicians fit.