No doubt that many of you have heard of "The Boy Who Cried Wolf", one of Aesop's fables. A shepherd boy repeatedly tricks villagers nearby into thinking that wolves are attacking his flock. When the wolves do come along, he cries for help once again, but the villagers do not believe him anymore. Thus, the wolves eat his sheep.
Moral of the story: "This shows how liars are rewarded; even if they tell the truth, no one believes them."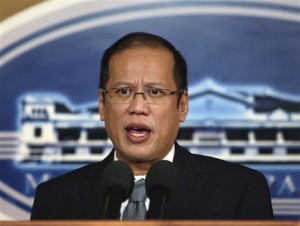 Now, on the basis of his parents' name and his pedigree, then presidential candidate Benigno Simeon "BS" Aquino III had been able to convince the electorate that he could be trusted. I'm guessing that even those who didn't vote for him back in 2010 wanted to trust him when he became the official winner in that year's presidential elections, though they were watching him closely. The Philippines, after all, prides itself in being a "democracy"; thus the decision of the majority must be respected, whatever it may turn out to be.
When we define what it means for BS Aquino to be trusted, it means that he would be competent and qualified to lead a nation of 100 million (and counting). He would make decisions for the greatest good of the Filipino people. He would put the national interest above his clan's own. He would finally be the one to make sure that government operates more efficiently and effectively than it had in the past.
It did not take long for BS Aquino to show that he couldn't be trusted with the highest government post, though.
Remember the Luneta hostage situation in August 2010? Eight (8) Hong Kong tourists ended up dead because of the failure of several Philippine institutions: the Philippine Media, the Philippine National Police, and the local and national governments. And BS Aquino was nowhere to take command responsibility at that time. Three years later, he still hasn't.
Maybe dealing with hostage situations wasn't yet one of BS Aquino's government's strong points at that time. Let's see now, what if his government's strength then actually lies in responding to natural calamities? After all, the Philippines does get hit by 20-odd typhoons a year, with the occasional armed conflict and earthquake thrown in for good measure. Surely, BS Aquino's government must be good at disaster management, right?
2011, typhoon Sendong (Washi) came. Typhoon Sendong killed at least 1,500. Typhoon Sendong left. Unfortunately, the calamity response was mismanaged. Malacañang did admit their excessive pre-occupation with former president Gloria Arroyo, though, so let's give them brownie points for that.
2012, typhoon Pablo (Bopha) came. Another 1,000 or so dead. Another mismanaged calamity response. And the government patted itself on the back prematurely for its supposed "preparedness".
Disaster response? Nope, looks like it didn't take long for BS Aquino's government to show their incompetence in that field either.
How about respect for the rule of law? How about, let's take him up on his promise to fight corruption? Let's see how he did there:
The Supreme Court implements a TRO on the travel ban that would have prevented former president Gloria Arroyo from getting treatment for her health condition abroad. What did BS Aquino's Department of Justice (DOJ) Secretary Leila de Lima do? Through her, his government defied the SC order and arrested her anyway, even without charges being brought forth at that time.
Former Chief Justice Renato Corona was also a target of BS Aquino's "anti-corruption" drive, all because he was appointed by Arroyo, never mind that the Judicial Bar Council (JBC) had been ok with it. BS Aquino wanted him impeached. He even resorted to using pork barrel (allegedly, of course), the ultimate device for government corruption here in the Philippines, to convince 188 congressmen to "see things his way". Ultimately, Corona was impeached, but BS Aquino's government trampled on his constitutional rights to do so.
And the sad part about all this is that the Filipino people, at that time, didn't seem to give much of a sh*t!
Hey, that's just the first two years of his term, up to 2012. And he's been racking up the baseball strikes and errors while only half the game is over!
2013 was "eventful", to say the least, and at the start of it, BS Aquino had a lot of opportunities to improve the standing of his government in his critics eyes. By the way, it was an election year.
Leopards don't change their spots. 50-year old boys still cry wolf.
March 2013 – BS Aquino's government left the men of the sultan, recently-deceased Jamalul Kiram III, to die at the hands of the Malaysians. Nobody's saying that the troops of the Sulu sultanate did the right thing; why it eventually turned out the way it did (into one big mess, for short) was because BS Aquino did not want to listen to what Kiram had to say about the Philippine claim to Sabah. BS Aquino instead was more concerned about campaigning for his Liberal Party (LP) senatorial bets, and making sure the Bangsamoro Framework Agreement (which Malaysia played a big part in, by the way), would come to fruition. The actions of Kiram and his men, however, doused cold water on the latter.
August 2013 – around that time a habagat hit Metro Manila. Same thing also happened in August of 2012. The response was the same, however: no official word from his government several days after the storm hit. In 2012, he came out to one site with his senatorial bets, which reeked of epal. In 2013, he defended his delayed appearance by claiming that he was coordinating with his cabinet secretaries.
September 2013 – the Zamboanga situation broke out. We all know how that went. Noynoy went down there to personally oversee the operations, but it looks like it didn't speed up the resolution one bit, did it?
October 2013 – an earthquake affected Bohol and Cebu and other nearby areas. Yes, BS Aquino went to the site, but what critics consider insensitive was that he didn't cancel his trip to Korea despite the need for leadership during the crisis management. No one could stop BS Aquino, allegedly because one of the highlights of that trip was for him to receive recognition on behalf of his father, Ninoy Aquino, who covered the Korean War in the 1950's as a correspondent for the Manila Times.
November 2013 – Typhoon Yolanda (Haiyan). Enough said. BS Aquino started off on the wrong foot by blaming officials of the hardest hit area, Leyte, Tacloban city in particular, for the lack of response. All despite the fact that they were among the victims too, and despite the realization that nothing could have prepared Leyte for the strength of that storm. Plus, he and his government officials were desperate to project an image to the rest of the world that they had the situation under control, even if reports from foreign correspondents on the ground had made it glaringly obvious that that wasn't true.
By the way, does anyone remember Noynoy Aquino' telecast at the end of October?
"I am not a thief." That was his way of doing cover-my-ass for the scandal with the pork barrel and the Disbursement Acceleration Program (DAP) that broke out. Unfortunately, when you do nothing or are powerless to stop thievery in your own backyard, hardly anyone will believe you when you say you are not a thief, or complicit to it. You're any one of three things: incompetent, indifferent, or blind.
Back to the Typhoon Yolanda situation. BS Aquino's government is now accused of padding the death count, keeping foreign donations to themselves, and using the Department of Trade and Industry's (DTI) Diskwento Caravan to sell relief goods to the typhoon victims.
The first item isn't so surprising, given that BS Aquino was so concerned about there being zero casualties.
For the second item, there were quite a few who volunteered to repack goods for the operations of the Department of Social Welfare and Development (DSWD) who also told their stories about DSWD Secretary Dinky Soliman's alleged belief that foreign donations were too good for the victims, thus they be given local sardines instead. Stories and reports persist; make of that what you will.
The DTI Secretary Greg Domingo has an official statement regarding the Diskwento Caravan. Even if he is telling the truth, that the Diskwento Caravan isn't being used to sell relief goods to the victims, it's hard to believe him, or any government official in BS Aquino's government, for that matter, because it has been crying wolf ever since.
***
There you have it. BS Aquino and his government had used all up all their "trust credits" with the Filipino people early on. BS Aquino has shown so far that he is not above telling lies just to keep his image squeaky clean, or because he has a perverse sense of self-righteousness. The credibility that BS Aquino's government has with the Filipino people is now at an all-time low; he and his government have been consistent in being under-performing and/or non-performing.
That's what the Philippines gets for following a man who cannot lead, as a wise man once said. It's just sad that Filipinos had to fall off a cliff before they could finally learn just how much their naivety and collective dysfunction would eventually come back to bite them in the ass.
А вы, друзья, как ни садитесь, все в музыканты не годитесь. – But you, my friends, however you sit, not all as musicians fit.