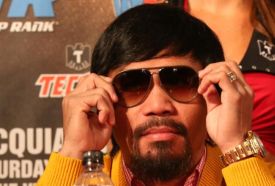 It's a he-said-she-said situation at the moment as mainstream media focuses its "news reporting" on the basis of soundbytes and snippets of statements made by boxing champ Manny Pacquiao and the Philippines' chief tax collector Bureau of Internal Revenue (BIR) Commissioner Kim Henares. It all started with "reports" following the boxing match between Pacquiao and Brandon Rios in Macau that Pacquiao's bank accounts were "frozen" over a long-pending Php2.2-billion rax case. The news first broke in a Manila Bulletin report of a warrant of garnishment (WG) issued by the BIR that effectively bars Pacquiao from accessing his bank deposits among other assets…
The tax case arose from the alleged failure of Pacquiao's accountant to report in his income tax returns (ITR) the multi-million-dollar taxes collected by the US Internal Revenue Service (IRS) from his prize winnings for the years 2008 to 2009.

Pacquiao said the assessment, which included interests and surcharges, was "arbitrary," stressing he could not afford to pay the assessment because it was more than his net worth.

BIR lawyers said, however, that the tax debts have become "demandable, executor, and collectible" because the solon allegedly ignored to answer the final assessment notice (FAN) sent to him, which expired 30 days after receipt as provided for in the Tax Code.

Revenue officials explained that as a Filipino citizen, Pacquiao, a congressman representing Sarangani province, is required to declare in his ITR all his earnings, including those derived from abroad.
The issue seems to be generally around Pacquiao's failure to comply to the BIR's reporting requirements. And with the sum of money and the multiple streams that characterise his income, it could be likely that this problem arose from an administrative failure on the part of his accountants. Back in March, 2012, reports of Pacquiao's troubles with the Philippines' tax office had already started emerging…
Bureau of Internal Revenue regional director Rozil Lozares says a complaint was filed March 1 after Pacquiao failed to submit the documents despite three notices and a subpoena.

He said Thursday that Pacquiao's 2010 tax return contained "discrepancies" considering his many businesses and endorsements.
The trouble with Pacquiao is that he has pitched himself to the Filipino public as the "pambansang ninong" to the extent of having to borrow money while his accounts are frozen to fulfill his promise to donate relief aid to the victims of Typhoon Yolanda (Haiyan)…
Pacquiao, the wealthiest member of the Philippine Congress, said Tuesday he borrowed over P1 million ($22,700) to purchase relief supplies before his fight Sunday with Rios in Macau and will borrow more to keep his word to typhoon victims. Pacquiao said he plans to provide aid to more than 10,000 families.
Indeed, to follow through on his awesome achievements as a boxer, and then as a Philippine politician, Pacquiao has long been busy styling himself as the Ninong ng Bayan — the "godfather of the Filipino people". But there is a looming risk to Pacquiao's fortunes down the path if he is to go down this slipperly slope. When the awesome income he derives from his stellar boxing career dries up, where will he get the funds to sustain that image? Observed sports writer Rafe Bartholomew back in 2012…
Pacquiao's boxing income has helped him maintain a clean reputation through his first two years in office, because he doesn't need to divert government funds to side businesses or accept kickbacks from illegal lottery syndicates. Beyond that, I believe the hype about Pacquiao's desire to be an honest politician and serve his country. But there will come a time when the boxing money faucet stops pouring, and all the hundreds — if not thousands — of people who look to Manny Pacquiao for their livelihoods will pressure him to find a way to keep the train moving, to keep giving out Manny's many prizes.
The issue is really quite simple. Pacquiao's current role in Philippine government is as a legislator. His job as legislator is to craft laws. As such, he does not owe a single cent to his constituents out of pocket. The concept of "duty" he applies are mere mal-concoctions of a mind ill-equipped to understand the true nature of his role as a government official.
That said, Pacquiao does owe a different sort of debt to the Filipino people — via the Philippine state's taxation system. And therien lies the irony of it all. Why borrow to give to the victims when he can simply settle his tax debacle and set his accounts straight with the BIR? That way, Filipinos get from Pacquiao what is legally due them. In doing so, he will have done his duty to the state and, in principle, be absolved of his "debt" to Yolanda's victims. That will leave him a bit of head space to do his other duty — to craft laws in his role as a member of the Philippines' legislative body. Remember that part of the job description?
Perhaps what Manny Pacquiao should do is take notes in the course of sorting out this imbroglio. That way he might later have enough material to employ in aid of his legislative agenda. He should see this as an opportunity to perhaps make a name for hismelf as a true legislator in, say, the field of taxation reform.
benign0 is the Webmaster of GetRealPhilippines.com.