Once again, Filipino boxer extraordinaire Manny Pacquiao claims another victory, this time over Brandon Rios. This is supposed to uplift people's spirits in the wake of the destruction caused by Typhoon Haiyan/Yolanda. And it's probably making up for the loss against Juan Manuel Marquez last year. Again, Filipinos are going to say "Pinoy pride," something that we've been shooting down in Get Real Philippines for good reason. While Pacquiao's victory may have its good side, it will also have a bad one.
Pacquiao won because of his training and his sipag at tiyaga. It certainly isn't because of his being Filipino. It's just a lucky coincidence that he is Filipino. It's the same point as in my previous articles on Gilas Pilipinas and Megan Young. However, Pinoy Pridists will claim Pacquiao is a great boxer because he's Filipino. They're only after praising Pacquiao in order to boost their own image, the folly of an overly image-conscious culture. This is the great propagandic myth we've been shooting down. If Pacquiao is great, that doesn't mean all Filipinos are great.
What Filipinos should understand is that he is already a level above most Filipinos. He trained himself, gained experience, and humbled himself before his American trainer, Freddie Roach, to follow his advice. He earned a lot of victories, went through some defeats… and earned a lot of money. He can't be a representative of the ordinary Filipino, because he's not an ordinary Filipino. He's already up somewhere unreachable. He can be an example for people who want to do something about their lives, but he can't identify anymore with the ordinary Filipino.
Also, the victory comes after the Visayas is pummeled by the onslaught of Typhoon Haiyan/Yolanda. The obvious emotional high is there, but it'll pass. And this is a fact; as fellow blogger Kate Natividad eloquently stated, Manny Pacquiao's victory will never save or help the typhoon victims in a substantial way. It perhaps gives temporary emotional support for the victims. But after Manny's victory, it's back to reality; no house to live in, no livelihood, no food. Hopefully, Manny can help in that department. Filipino "resilience" has a limit.
This is one problem with Filipinos: they think only for the short-term, as the Geert-Hofstede index for the Philippines shows. Pursuing something for the long-term is not valued in our society. Among these long-term things is proper preparation for storms of Yolanda's strength. That kind of thinking is even shot down as "high-class" or "negative." Filipinos prefer the short-term joys because these don't need much work to get. So when disaster strikes, the joys are quickly extinguished.
This brings me to ask; what if Typhoon Haiyan/Yolanda never struck at all? Would most still wish Pacquiao would win? Perhaps the attitudes would be different then. For me, this reveals how petty the values of Filipinos can be. Anything to give temporary highs is more valued. Something for the long-term is shunned.
Using other Filipinos' victories to base one's happiness on is superficial. We would like to think Pacquiao winning against someone is a victory also for the country. But in truth, Manny is the sole winner of this fight. He goes all the way to the bank with this one. If he really gives a lot of his winnings to help typhoon victims, then he gets my praise.
If Filipinos seek to make Pacquiao's victory more meaningful, they should stop saying the victory is Pinoy Pride. A more realistic realization is that the victory just shows that some are luckier than others. Perhaps there have been would be great boxers from Tacloban or Leyte, who with enough training, could achieve what Pacquiao did. Sadly, the storm claimed their lives. Pacquiao just knows how to make use of his luck and make it meaningful for himself. How about other Filipinos, can they make their lives meaningful?
Like what I said about Gilas Pilipinas, Filipinos should stop admiring Pacquiao like their favorite fighting cock or race horse. They should emulate Pacquiao's sipag and tiyaga, and not depend on "relief goods" as their long-term plan. I'm not talking about victims of the storm, but other Filipinos who believe it's a right to not work (and perhaps prefer to live by betting on Pacquiao and their favorite fighting cock or racehorse).
Perhaps Manny's getting a victory after losing to Marquez last year is likened to people getting up and rising after Haiyan. The problem with this is it's not that simple. Manny didn't lose his home or members of his family. Victims have to cope with hunger and loss, and sometimes it causes them to become mentally ill. In this sense, much assistance is needed, such as mental health services, which the government should provide, but likely will be lax in doing so. Manny's victory won't be a cure for this kind of mental illness. With this situation, pride is inappropriate to apply.
Congrats, Manny Pacquiao, but I hope Filipinos get the right message from your win.
And please drop politics.
And by the way, there's still a case of stupid Pinoys trying to shame their country by trolling stupidly: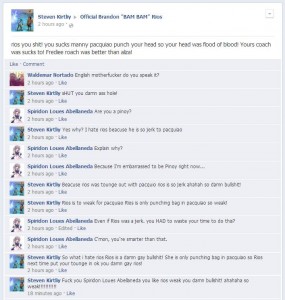 I believe, as my cohorts here do, that what Filipinos embrace as their culture is what actually pulls the country down. And those who seem to be anti-dictators, who may also believe themselves to be "heroes," are the real dictators.