Ok na sana that Manny Pacquiao won against Brandon Rios. That is of course a cause for celebration for any Pacman fan (which I am). What's annoying is the way Pinoys extend that victory to give some nebulous basis for some sort of hope to the Typhoon Yolanda victims. Why nga ba? How exactly does Pacquiao's win change the fortunes of the Yolanda victims? For that matter, how does Pacquiao's win change the Philippines' future prospects overall?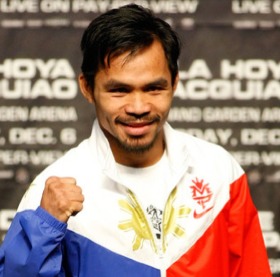 Pinoy nga naman talaga. We just have to turn everything into some kind of agimat. It just ruins the whole thing.
I mean, check this out.. In a report on ABS-CBN News, I read that chief of the Philippine Army Lt. General Noel Coballes is proposing that "special military honors" be extended to Pacquiao conferring on him a "reserve lieutenant colonel" rank. WTF?!
I find it rather baffling that all these relief workers — specially the ones who volunteered their personal time — aren't insulted by this blatant bullshittery. Here they are sweating it out on the ground, packing relief supplies and all that. Then Pacquiao wins a boxing match, pockets millions of bucks, and then he gets to be an "honorary" officer in the Philippine Army. Where's the justice there? This "Lt. General" Coballes probably does not have anything better to do with his time.
Then there is Malacanang spokesman Herminio Coloma who, in his congratulations message to Pacquiao said, "Just like Manny, we will triumph over our current problems by working together…" Say what? So let me ask this question: What if Pacquiao had lost? Will Filipinos be described as being "just like Manny" then? I fail to see the logical connect between Pacquiao's victory and the sudden certainty that Filipinos will suddenly find a long-hidden ability to "work together" and, as a result, "triumph over [their] current problems".
I don't know what is worse, having no hope or being given false hope.
At least when one is given no hope, the truly strong will make her own hope. But for those who are given false hope, it will be more like a tragic lifetime of clinging on to a hope that will never materialize.
The one thing that all this Pacquiao fanfare is achieving for Filipinos is that it grants them a temporary high and allows them to foget their problems for a while. If you think about it, that's sort of what alcohol and drugs does as well, doesn't it? So why, I might ask, is excessive consumption of alcohol and drugs frowned upon while excessive consumption of Pacquiao meds celebrated?
Hope is not a strategy.
That's right. Strategies involve sets of tactics that consist of plans which, in turn, consist of steps to be taken. Manny Pacquiao may inspire. But he does not provide the steps each Filipino needs to take to extricate himself from his poverty. When all one is given is a promise of "hope", the next question one should ask is: Hope in what exactly?
Considering Pacquiao had won so many fights over the years, Filipinos should be the most prosperous people by now if we subscribe to all the BS surrounding the effect of these wins on the Pinoy "spirit". But what we see today is the opposite. In almost every aspect — even before the Yolanda disaster — olats na ang mga Pinoy. Open your eyes, people. No matter how many times Pacquiao wins, those victories simply do not rub off Pinoys' fortunes. Wa epek, in short.
It's just so disturbing to think that this sort of thinking is encouraged even by people who supposedly are the country's most educated opinion shapers — that some sort of "Filipino spirit" emanates from the achievements of these pro athletes. These manicured idiots should instead encourage the thousands of Filipinos who follow their Twitter accounts or watch their TV shows and movies to find that "spirit" from within themselves and divorce that source from this sort of pagan idolatry that should not have a place in a modern society. Otherwise, they are no better than drug pushers, keeping their masa fans high as kites on a daily dose of showbiz opiates.
Tama na yan.
Showbiz is not real life. Is that fact really so hard to understand?
Frustrated artist doing geek for a living.